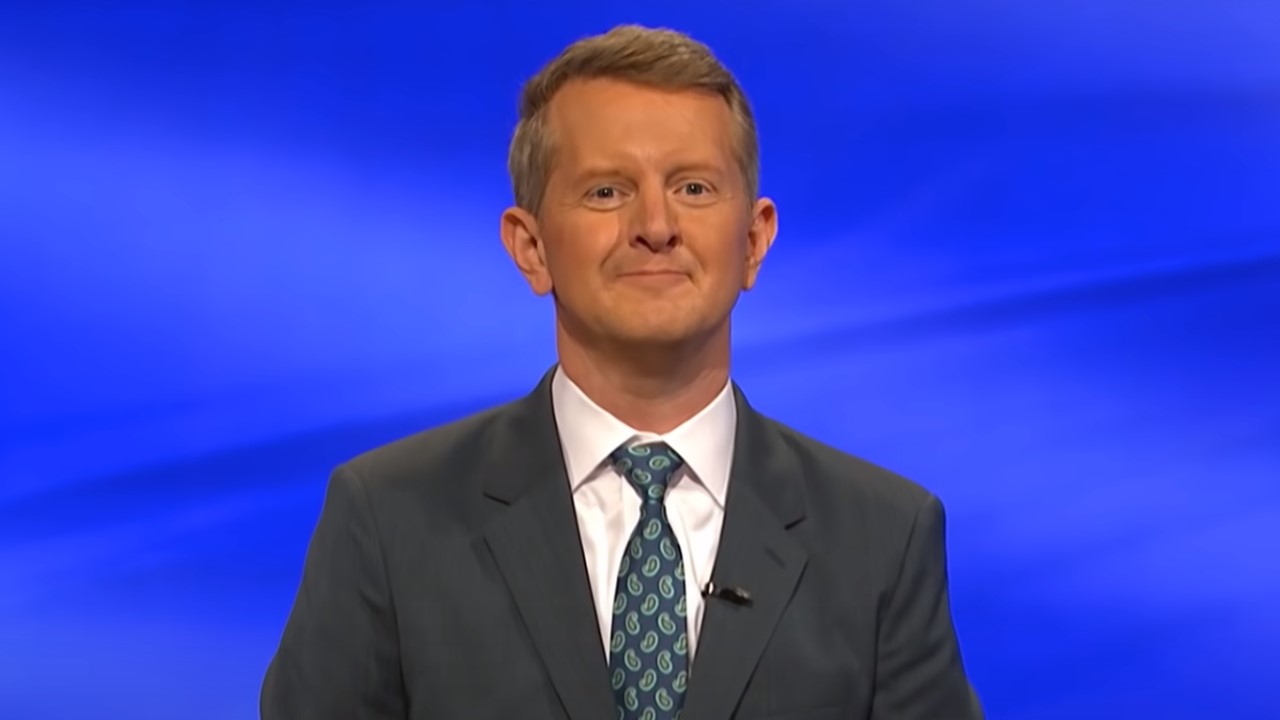 When Jeopardy! set out on its quest for a new host to replace the great Alex Trebek, everybody seemed to have an opinion about who should fill those shoes. Ken Jennings was considered a favorite among the revolving door of celebrities who auditioned for the job, drawing the support of former contestants, fans, and even Trebek himself, as many argued that Jennings' legacy with the game show made him a shoo-in. However, now that he has been named the permanent co-host — a position he swaps with Mayim Bialik — one former champion explained why they don't actually get to talk to Jennings very much during filming.
Ray LaLonde started off the new year as Jeopardy!'s latest super-champ, winning $386,400 in thirteen victories to secure a spot in this year's Tournament of Champions. Once his streak came to an end, he spoke to Toronto Life about the Jeopardy! GOAT, revealing the reason that he — and the other contestants as well — didn't get much down time with Ken Jennings. LaLonde said: 
Back in the 1950s, there was much corruption in game shows, with producers being known to fix the outcome of games. The most famous of these occurrences was the Twenty One scandals that were dramatized in the 1994 Oscars' Best Picture nominee Quiz Show. Obviously times (and laws) have changed since then, and Ken Jennings is apparently not allowed to fraternize very much with the competitors for legal reasons.
Ray LaLonde gave a couple other interesting Jeopardy! tid-bits, including that officials oversee the selection of contestants and the randomized categories that will appear on the game board. Mayim Bialik spoke last year about how big a deal it is that everything is done above board, detailing the process they all go through to make any kind of correction. A lawyer is present on set, she said, and if an incorrect response is later ruled acceptable by the judges, according to the co-host, "that usually means we've shut down for like an hour."
Keeping everything fair is also the reason the Jeopardy! powers that be adopted the rule that once someone serves as the host for a game of Jeopardy!, they are no longer allowed to participate in future games. Longtime producer Sarah Foss explained on the Inside Jeopardy! podcast that guest hosts have "seen behind the curtain," possibly giving them an unfair advantage or understanding against the other contestants.
Yes, that means that Ken Jennings is now technically banned from playing in any Jeopardy! games or tournaments in the future, although executive producer Michael Davies admitted he might be willing to break that rule if the man with the longest win streak in Jeopardy! history expressed interest in playing again. How could you say no to the GOAT? This doesn't seem to be an issue, however, as the EP said Jennings consistently states that he has no interest in playing again. Too bad that means he's also cut off from the other contestants.
Check your local listings to see when to catch Jeopardy! in your area, and tune into Celebrity Jeopardy! at 8 p.m. ET Thursdays on ABC. Be sure to check out our 2023 TV schedule to see what other premieres are coming soon.