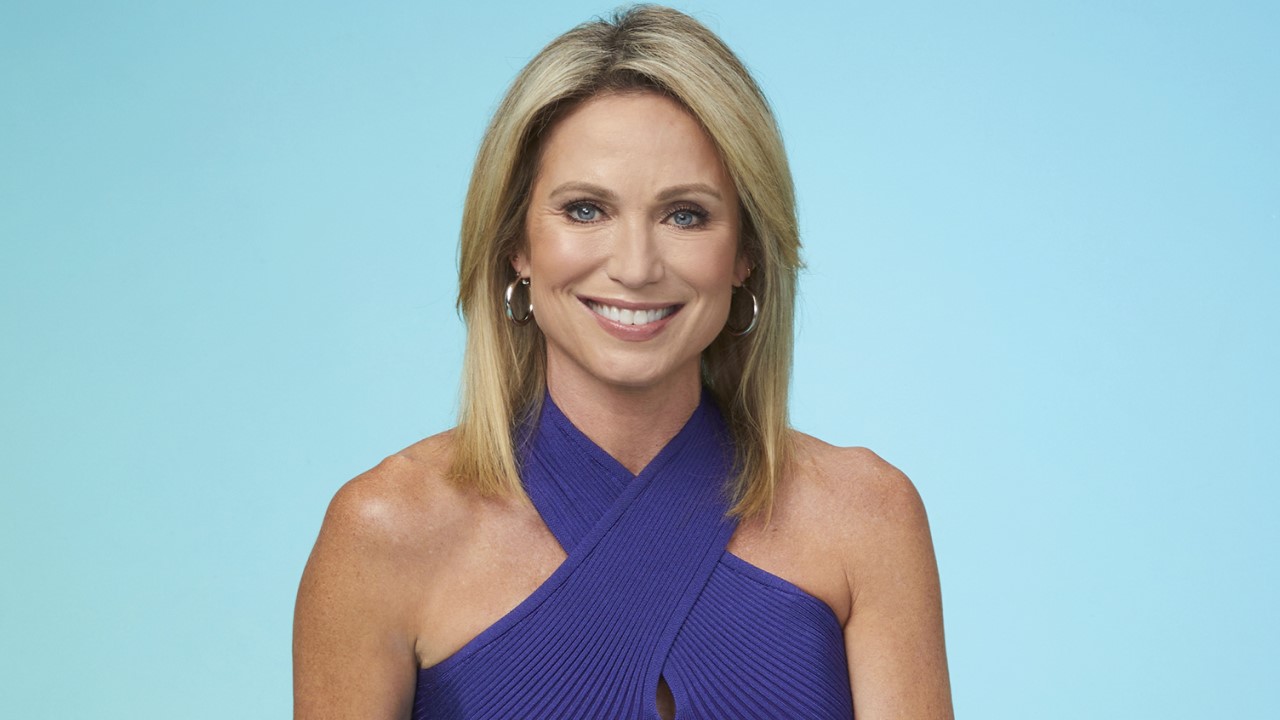 There's been a ton of speculation about GMA3 co-hosts Amy Robach and T.J. Holmes since their romantic relationship was exposed in late 2022. The couple has not been hiding their love, spending Christmas together, even as ABC News conducts an investigation into possible contract violations from their alleged affair. Holmes' estranged wife Marilee Fiebig even released a statement, after divorce papers were filed last month. One person we haven't heard from, however, is Andrew Shue, who has been married to Robach since 2010. The Melrose Place alum has remained quiet amid the brouhaha, but on January 13 he was photographed meeting up with his estranged wife.
Video and photos from the Daily Mail showed Andrew Shue and Amy Robach meet up at a park in Greenwich Village, and the reason for the rendezvous appeared to be a custody swap of their dog Brody. Robach walked around with the Maltese-poodle mix before Shue arrived. Brody appeared in photos to be excited to see him, and Robach handed over the leash. The couple were photographed standing a few feet apart, and they spoke for a few minutes before walking away in separate directions, with the GMA3 anchor reportedly returning to T.J. Holmes' nearby apartment.
The website described the encounter as the couple's first reunion since Amy Robach's relationship with her colleague was made public. She and Andrew Shue reportedly separated back in August, and it's unknown what their arrangements are for custody of the pooch, or who was looking after Brody during the ABC employees' PDA-filled vacation in Miami over the holidays. 
Brody has apparently been part of the family since 2014, providing "the perfect prescription" when Amy Robach was battling breast cancer, she once said in "A Letter To My Dog." The park meeting was the first public sighting of Andrew Shue since the affair allegations against T.J. Holmes and Robach. As the new couple spent the holidays together, the actor appeared in a family photo on his son's Instagram account, with Nate Shue declaring his dad and brothers "Riders on the Storm."
Before Amy Robach and T.J. Holmes separated from their respective spouses, the two couples were apparently very close, with the 20/20 co-host saying that she and Andrew Shue used to double-date with Holmes and Marilee Fiebig.
With the co-anchors' relationship apparently full steam ahead, the question now seems to be whether they will return to GMA3 after being pulled from the broadcast in December. Sources claim T.J. Holmes and Amy Robach don't think they'll be fired, but might be prepared to take ABC to court if they do lose their jobs. There's already been plenty of speculation about who could replace the longtime ABC employees. DeMarco Morgan, who has been one guest host filling in since the couple's suspension, seems to be primed to take over T.J. Holmes' position full time, according to a "spy" at a recent New York City media mixer. 
It's been over a month since the co-hosts were benched, so hopefully the network will be releasing a statement soon. You can catch GMA3 in the third hour of Good Morning America on ABC, so check your local listings.