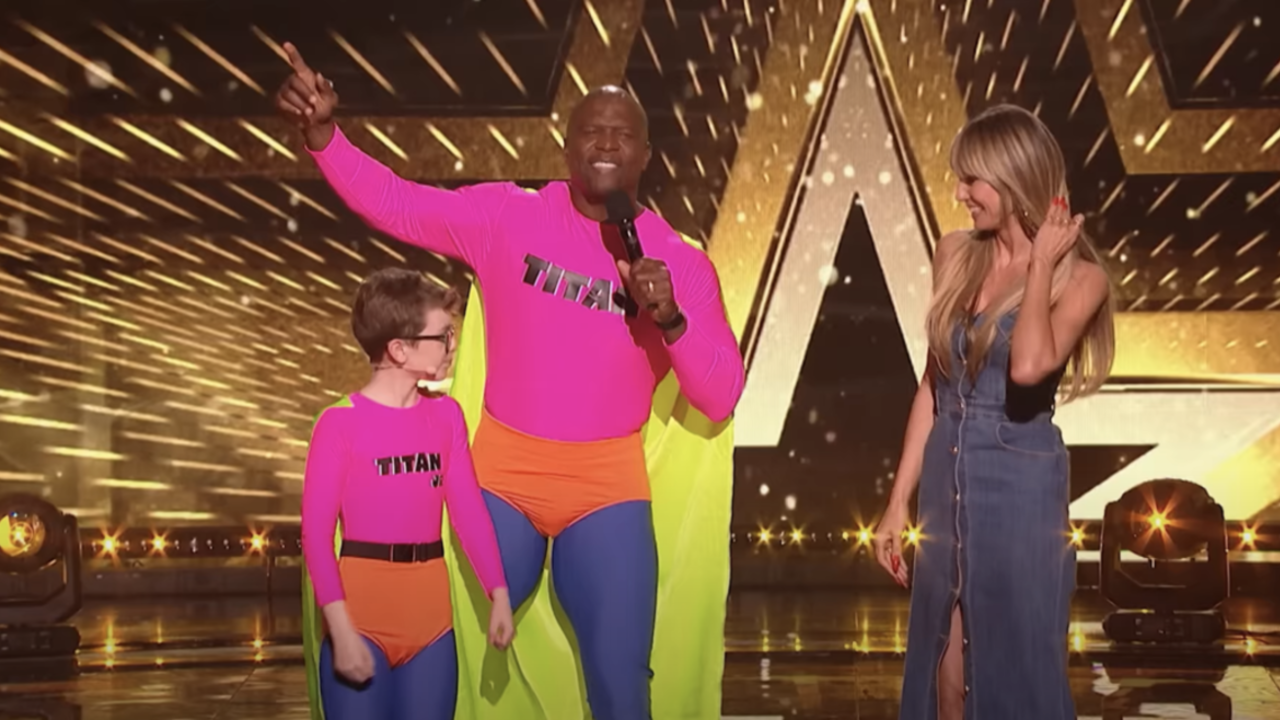 Spoilers ahead for the fourth night of America's Got Talent: All-Stars auditions on January 23. 
America's Got Talent: All-Stars has brought the best of the best from across the world (and across the AGT franchise) to return to the stage and try for the top prize. The competition is much stiffer than in a normal season, as champions are facing off against champions, with fan-favorites battling fan-favorites. Now, after the fourth night of auditions, one more contestant has won a golden buzzer after impressing judge Heidi Klum. 13-year-old Irish magician Aidan McCann came to the AGT stage from Britain's Got Talent to turn Terry Crews into a Titan, and it was a hit!
No, Aidan McCann's magic skills didn't involve time travel and/or teleportation to take Terry Crews back to his NFL days and get him a spot on the Tennessee Titans, but instead made him into a superhero who goes by that name! It was a twist that none of the judges saw coming. The young magician had already impressed them; the extra twist with Terry Crews was enough for Heidi Klum to hit the buzzer. Take a look:
Aidan McCann was a finalist in Britain's Got Talent at the age of 11; now, he has a shot at winning the All-Stars season of AGT at the age of just 13, and I have to give him credit for nailing banter with the judges while completely blindfolded. He may not have needed any magic tricks for that, but I know that I was impressed! Plus, not only did he prove that he predicted how the judges had colored in his superhero drawing, but he came prepared with a junior superhero suit for himself and a big superhero suit for Terry Crews. 
Well, Terry Crews did previously say that he wanted to play a superhero! The Titan may not be Silver Surfer, but the crowd was loving the surprise of him tearing off his suit to show that he matched Aidan McCann. Was there any surprise that Heidi Klum felt that it was time for her to hit the golden buzzer? Honestly, I would have wanted a second golden buzzer for Terry Crews for flapping his cape and skipping off-stage! At the very least, he deserves a congratulatory hug like the one that McCann got from Klum. 
Aidan McCann is the fourth All-Stars contestant to get the golden buzzer, following former Season 14 contestants Light Balance Kids after they got the honor from Howie Mandel, Season 14's Detroit Youth Choir after getting their second golden buzzer from Terry Crews following the first back in 2019, and Simon Cowell giving comedian Mike E. Winfield a second chance after his elimination back in Season 17. (Dance group Mayyas ultimately won Season 17 after a very close vote.)
For now, the golden buzzer All-Stars are up against those who are voted through by the Superfans, who have already made cuts ranging from former AGT winner Dustin Tavella to dance/drum group Malevo.
Keep tuning in to NBC on Mondays at 8 p.m. ET for new episodes of America's Got Talent: All-Stars. The fifth round of auditions is on the way, and the show is continuing to cut All-Stars at a furious pace, so be sure not to miss an episode if you're invested in seeing who is chosen as the best of the best. If you have missed any episodes so far, you can find them streaming with a Peacock Premium subscription, and find what to watch during the rest of the week on our 2023 TV premiere schedule.