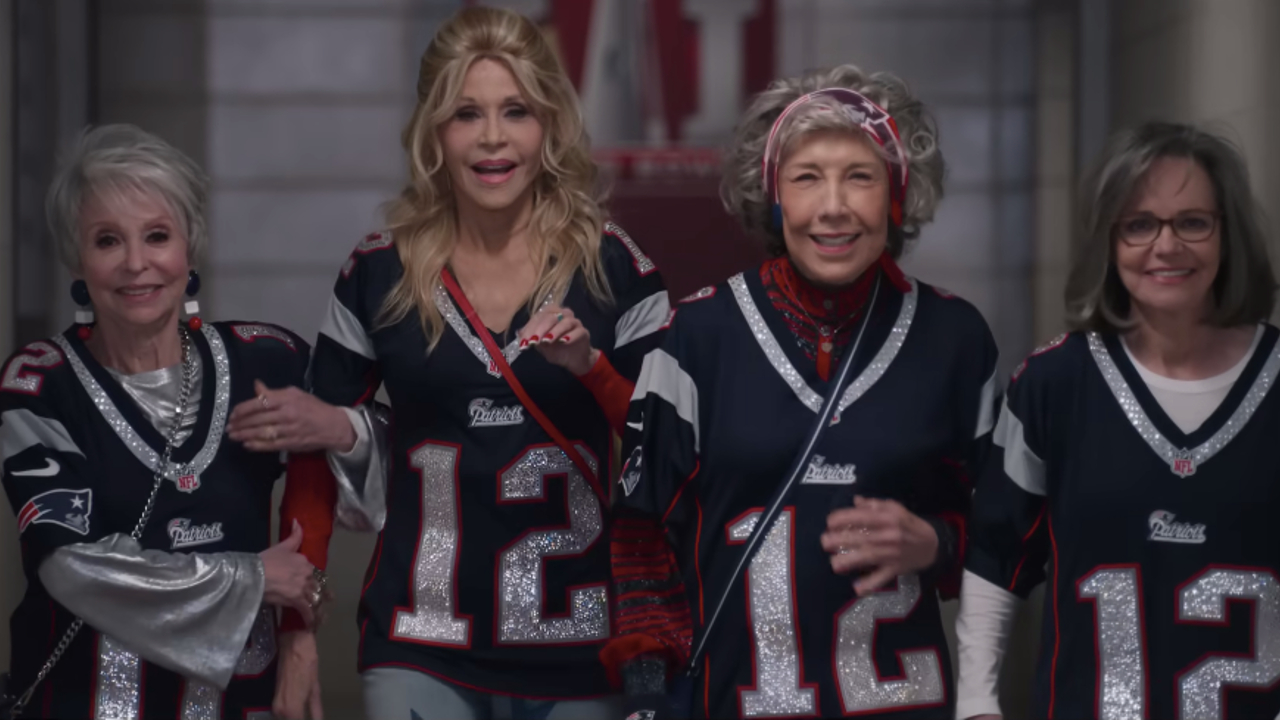 Since Tom Brady called off his NFL retirement, fans have still been seeing a lot of him but not just on the gridiron, though. He's been engaging in other ventures as of late, including a big-screen production. You'll be able to catch him in the upcoming movie 80 For Brady alongside some true Hollywood royalty. The film has been promoted for months, but it would seem that Twitter users only recently discovered what the plot entails. With that, they took to the social media platform to voice their thoughts on it.
80 for Brady is about four older women (played by acting legends Jane Fonda, Lily Tomlin, Rita Moreno, and Sally Field) who are fans of the New England Patriots. The tale sees the group travel to Houston in order to see their hero, Tom Brady, play at Super Bowl LI. Since it hasn't come out, we can't judge the film just yet, but people are still voicing their honest thoughts on what's been presented thus far. One tweet had a very spicy reaction about the film's release:
That's a very honest response, to say the least. Comedies can definitely be hit or miss, especially those that see veteran strs as characters put in quirky situations. Poms is such a movie, which brought together Diane Keaton, Jacki Weaver, and Rhea Perlman as a group that starts a cheerleading squad only to endure. Sadly, the film became the worst box office flop of 2019. As for Brady, another Twitter user had a negative reaction to the upcoming movie:
This probably isn't the first movie that one would think of for the Golden Globe and Oscar winners. They done just about everything at this point, from comedy to drama. 80 for Brady may not reach the heights of Steel Magnolias or 9 to 5 but, I guess, at the very least, it features Guy Fieri and football madness, right? And there are some who would like to check out the movie and support its stars, as this mixed-review tweet suggests:
Football ties certainly run deep and, because of that, there are plenty of people who opt to root against Tom Brady, both on and off the field. But of course, for many, any opposition they have towards the famed quarterback may be overshadowed by their love of the actresses involved. Though one social media user seems to have made their position quite clear:
Tell us how you really feel. A common thread amongst these comments is that some are thinking up their own ideas for alternate storylines One Twitter post had another thought on how these high-profile actresses can be on screen together, and it involves Jimmy Kimmel Live!:
Well, at the very least, the Super Bowl-winning quarterback did have the love and respect of his co-stars while filming. Jane Fonda admitted that she "got weak" in the knees Brady. Still, it's quite clear that the movie is just going to have its share of critics. One more Twitter response was particularly brutal toward its poster:
Of course, we still don't know how the movie is going to perform. It could very well surprise people. But based on social media comments, 80 for Brady faces a long drive down the field to prove itself to prospective viewers. We'll see how things turn out after the Tom Brady-fronted movie releases on February 3rd as part of the 2023 new movie release schedule.