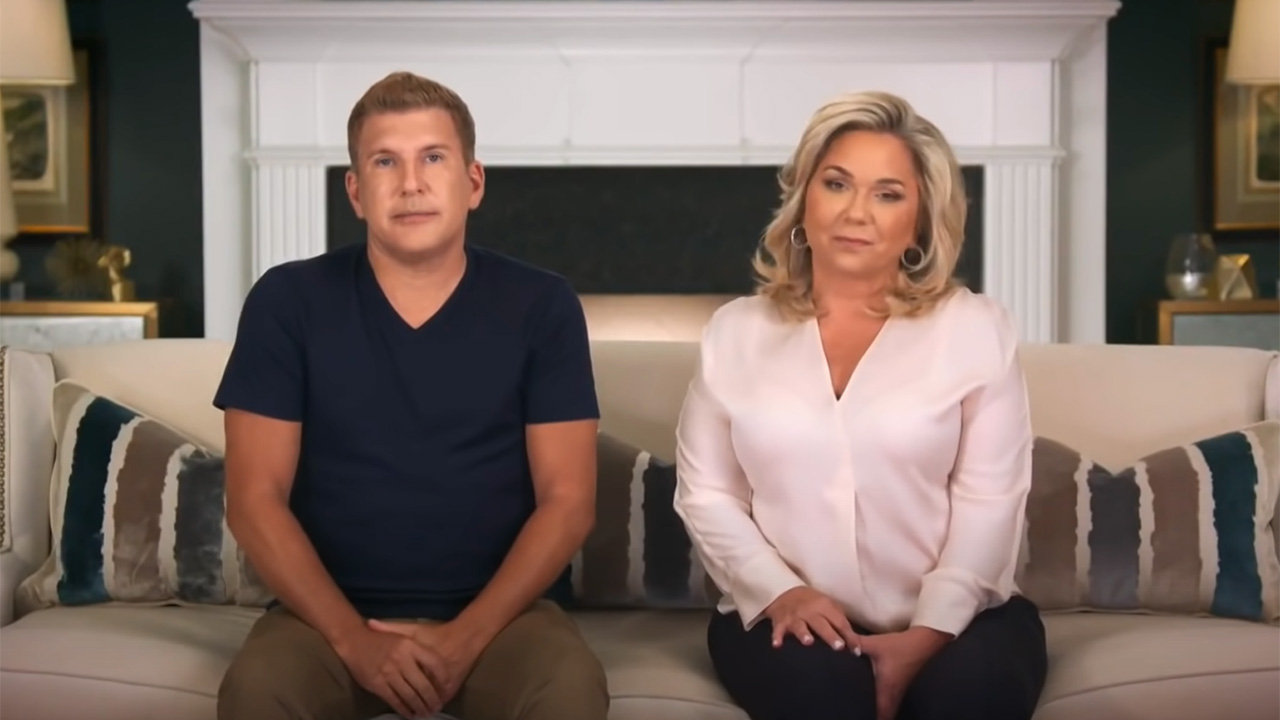 Time passes swiftly. Just a few weeks ago, Todd and Julie Chrisley were appealing their guilty verdict following bank fraud charges in the hopes they might be able to avoid or at least delay jail time. Their lawyer was optimistic after filing an extension to hopefully keep them out of jail for an additional 21 days, but a judge denied the Chrisleys' appeal and today they start their respective sentences. So, how did they spend their last weekend of freedom?
Turns out running errands and spending time with the family were both on the docket. According to reports, some of these activities were more on the mundane side; Todd Chrisley, for example, paid a visit to the post office. In addition, the Chrisley Knows Best's matriarch spent the weekend with her daughter Savannah and her mother, Pam Hughes. They were seen by The Daily Mail out shopping for furniture and groceries and stocking up.
Heading into the weekend, Todd and Julie were also seen out for one last meal with Todd's Mom Faye Chrisley. Their daughter Savannah and niece Chloe were along, as was their grown son Chase and his fiancée, who were engaged back in October. The news comes after Lindsie Chrisley had candidly said the Chrisley Knows Best stars were "living every day like its [their] last." She said they've been enjoying "the moment" with their kids, and it seems like that's how they spent this last weekend, as well.
Both Todd and Julie Chrisley had been expected to be spending their prison sentences in Northwest Florida, but those plans have somewhat changed. Todd will still serve his time at a minimum security prison in Pensacola, FPC Pensacola. Julie, on the other hand, will be spending her sentence at Federal Medical Center Lexington. She was initially expected to be housed near Todd at Federal Correctional Institution Marianna, but was shifted to a facility allowing for medical and/or mental health care in Kentucky, instead.
Both are due to surrender themselves by noon ET on Tuesday, January 17. 
How Long Will Todd and Julie Chrisley Spend In Prison?
Unlike some other celebrity couples, Todd and Julie Chrisley will be serving their sentences simultaneously, which is different from what happened to other reality star Teresa Giudice and her husband, Joe. (In that case, one parent stayed at home while the other spent time in jail and then they flip-flopped upon release.) This means that Savannah Chrisley will be taking on the care of her teenaged brother Grayson and her niece, Chloe. 
As for the sentences? Todd will be serving the longer sentence of the two, as he was sentenced to 12 years in prison on varying charges, including bank fraud, tax evasion and more. While in prison, Chrisley may have to scrub toilets or take on other tasks of that ilk. 
Julie Chrisley, despite also being charged with wire fraud and obstruction of justice, will be serving a seven-year sentence. Her husband had asked for leniency in her sentence given her caregiving role. Todd had literally said Julie "should not be punished" with a sentence that was similar to his and a judge complied. 
Despite the prison reporting moving forward, the Chrisley family is still fighting the verdict. On Tuesday ahead of his reporting, Todd posted a video he captioned "fight the good fight."
We'll keep you updated as soon as both reality stars settle in and nab a release date.