Spoilers below for anyone who hasn't yet watched the second episode of HBO's The Last of Us, so be warned!
Another week for HBO's The Last of Us, and another major death from the video game. I mean, it's only Episode 2, but I can't imagine many fans would have complained if co-creators Craig Mazin and Neil Druckmann had put a full installment between Sarah's tragic murder and the horror drama's next big character exit. Alas, Anna Torv's headstrong survivor Tess bit the big one — or was it that the big one bit her? — in a way that differed from the game's narrative slightly with creepy and unfortunately fatal results. 
The Last of Us star Anna Torv talked with CinemaBlend ahead of the adaptation's HBO premiere, and shared her thoughts on her character's demise, and the game detail that necessarily stayed the same. 
R.I.P. Tess
As it went in the award-winning source material, The Last of Us' second episode brought out its instantly memorable Clickers during the group's trek through the history museum, and it was beyond cool to feel the same kind of tension watching them face off against the freaky monsters in live-action. Less cool were the reveals that the Fireflies our protagonists were planning to meet up with had all been killed, and that Tess had been bitten during the museum scuffle. Rather than going off to live her frazzled final days/hours with Joel and Ellie, Tess sacrificed herself as bait for a horde of infected drawn in by the cordyceps spores, as opposed to incoming non-infected soldiers, as it went in the video game.
This detail swap led to quite the gag-worthy moment in the TV series, with one of the infected nasties getting all close and slipping its throat-plant-WTF-roots-shit-business into Tess' mouth just before she set off the explosion. When I asked star Anna Torv about capping off her Last of Us journey with that bit of grossness, here's how she put it: 
To the actress' credit, many other shows and films likely would have added a more operatic verve to a sequence like that, but such beauty isn't always available within the world of The Last of Us. To heighten things with a bombastic score and the like might have taken away from the dark and dreary reality of Tess' sacrifice. Not that I wouldn't like to scrub that icky quasi-kiss from my memory.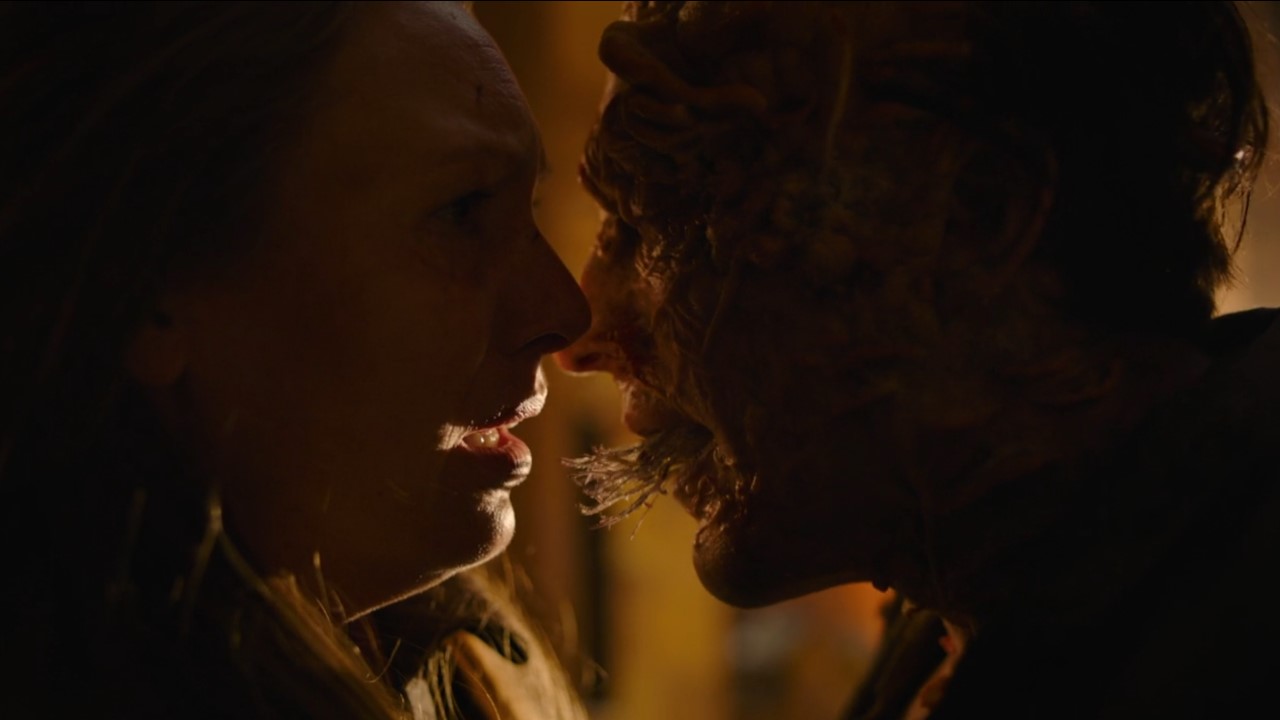 Ew! Ew! Ew! Scrub, scrub, scrub!
The Tess Detail That Had To Stay True To The Video Game
During our interview, Anna Torv talked about bringing a digital character to life, as compared to portraying someone in a play that had been performed many more times in the past. (On top of her fan-favorite work on Fringe, Mindhunter and other TV shows, Torv is also a veteran of the stage.) When I asked about how closely she was advised to look to the game for inspiration, the Newsreader vet commented on television being a rarer home for remakes like this, and shared one important detail that the co-creators wanted to maintain from the video game. In her words:
Though she didn't explain exactly why the bite's location was maintained from one medium to the next, it's fair to assume that they wanted the produce the same kind of horror-soaked-in-sympathy gasp provoked by the game's reveal for Tess, as voiced by Annie Wersching. If she'd have been bitten on the ankle or one of her butt cheeks, it likely wouldn't have been as dramatic an unveiling as her showing off her gruesome shoulder and neck. It also would have probably caused a bit of curiosity among viewers, not to mention Joel and Ellie, about how she would have been bitten in those areas. In any case, R.I.P. Anna Torv's Tess. We hardly knew ye. 
The Last of Us airs new episodes every Sunday night on HBO, which are also available to stream live with an HBO Max subscription. Head to our 2023 TV premiere schedule to see what other upcoming shows might click for you while waiting to find out if the show will reveal its cordyceps origin story.