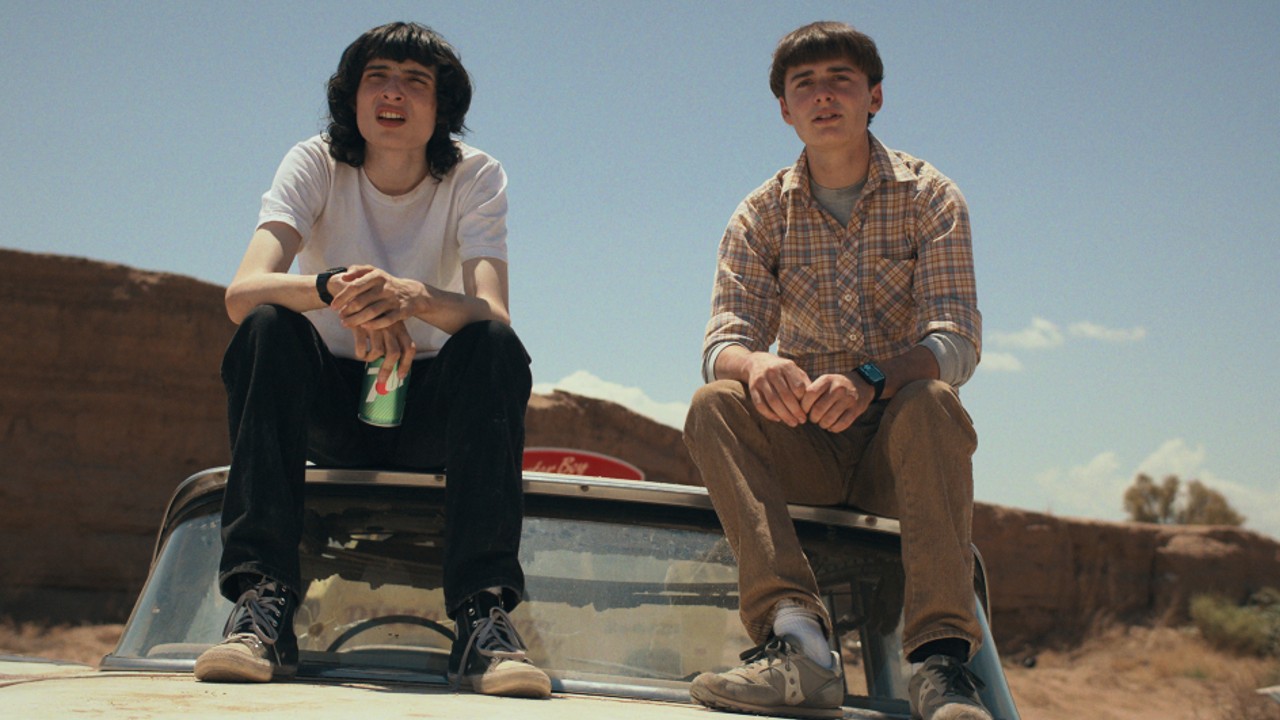 Throughout Stranger Things, and specifically during the latest season, fans have been speculating that Will Byers is gay, and they desperately want him to be with Mike, who he clearly is crushing on – a fact that was made abundantly clear during at the end of Season 4 Vol. 2. Following the latest season of the Netflix hit, and the discourse surrounding Will, the actor behind him, Noah Schnapp came out as gay on TikTok, and now, Finn Wolfhard to plays Mike, is talking about his co-star's announcement and the future of their characters on the hit sci-fi series.
While talking with IndieWire, Wolfhard was asked about Schnapp's light-hearted and heartfelt coming-out video. The actor was 100% supportive of his long-time co-star and is super proud. He said:
It's so sweet to see Wolfhard supporting his friend and co-star. Along with him, many fans of the show have also shown their love for Schnapp, and are even more passionate about Will finally getting a queer love story.
Last summer, right when Season 4 dropped, Stranger Things EP Shawn Levy commented, sort of, on Will's sexuality, saying if viewers noticed "bread crumbs of plot and character," in Vol. 1 of Season 4, "it's probably no accident." So, hopefully, we'll finally see Will find love in the show's fifth and final season.   
On this subject, Wolfhard discussed the future of Mike and Will on Stranger Things, saying:
Me too, Finn, me too. I also hope Will gets his happy ending, and Mike too…who knows maybe their happy ending will be together? I personally would love that. 
While Wolfhard's answer didn't give us much insight into if Will and Mike will end up together, it's nice to see the actor hopeful about the characters' futures, and confident that his character will be accepting of Will. 
Along with Wolfhard, Schnapp has been open about his character's identity and storyline. The actor behind Will explained that he thought his character's story was "beautifully addressed," and he was thrilled with how it turned out. 
I'm so happy that both actors are excited about Will's storyline, and are hopeful that he'll get a happy ending in Season 5. I also appreciate Wolfhard's acknowledgment of how "clueless" Mike was last season, hopefully, he'll come to his senses, and be totally accepting of his friend come the new season of Stranger Things. 
Sadly, we'll have to wait a while for Stranger Things' fifth and final season, however, you can go back and watch the first four seasons of the series with a Netflix subscription.