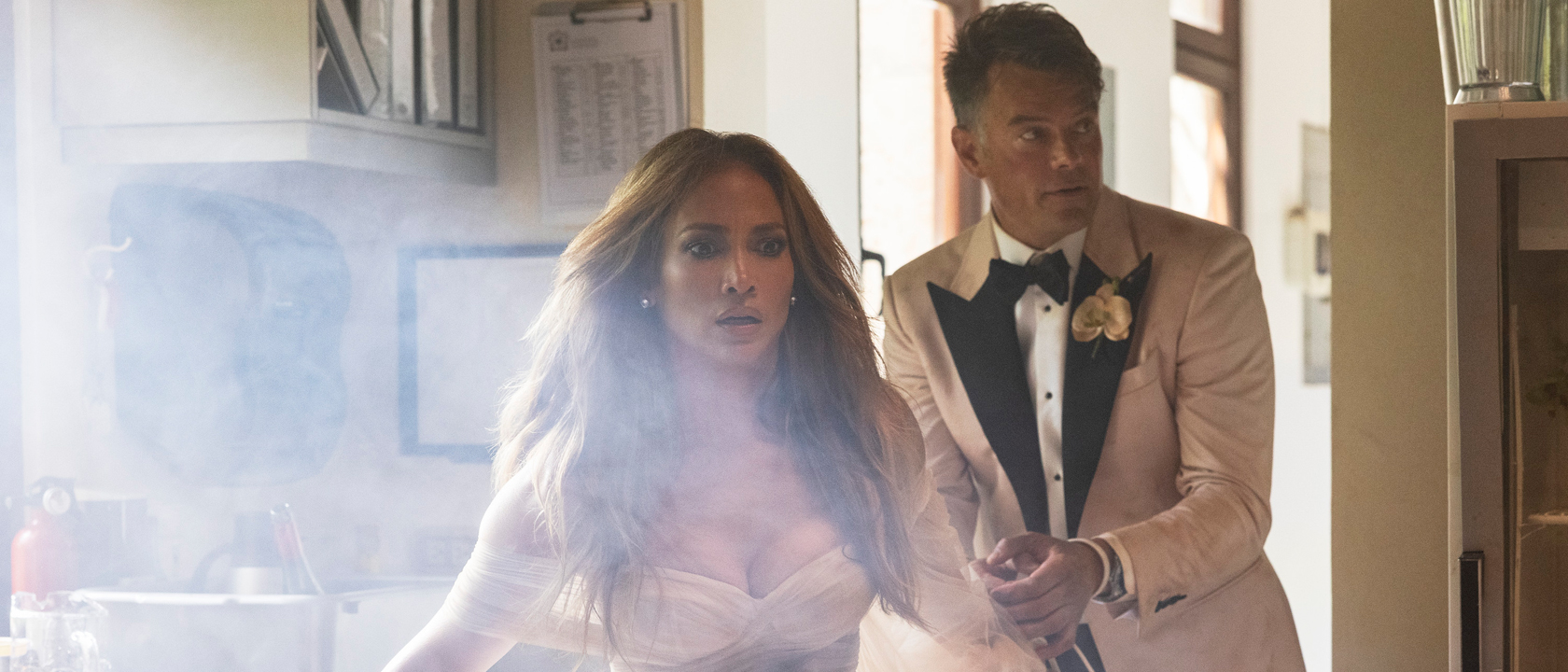 Jennifer Lopez is a global superstar who has had an insanely successful career as both a recording artist and actor. She's rocked biopics and a number of rom-coms – the latest of the latter being Jason Moore's Shotgun Wedding. But this new funny movie about matrimony also comes packed with a wild twist that transforms it into an action project complete with gunfights.
Shotgun Wedding is set at the destination ceremony for Darcy and Tom, played by Jennifer Lopez and Josh Duhamel respectively. The latter actor joined the project last minute, after Armie Hammer dropped out due to the allegations made against him, but you can't tell, as the two stars have amazing chemistry throughout the the movie's 100 minute runtime. While the couple stresses about things like in-laws and the commitment of marriage, the event is interrupted by a battalion of armed bad guys who take everyone hostage. It's up to the bickering couple to save their loved ones, and maybe make it down the aisle if they make it out alive.
The concept of Shotgun Wedding is pretty bonkers, but despite this, it really all works. The clumsy action sequences are usually equal parts thrilling and hilarious, and the kills make for some of the funniest moments of the film. The biggest thing going for the movie is the charming cast, however, especially Jennifer Lopez herself.
Shotgun Wedding's cast kills it, with each member of the ensemble being given a chance to shine.
Like most marriages, Shotgun Wedding features two families coming together to celebrate the not-so-happy couple, and this allows Jason Moore and company to assemble an outstanding ensemble cast, all of whom perfectly inhabit familiar wedding archetypes. And while Jennifer Lopez and Josh Duhamel are very much the movie's stars, the supporting characters each get moments to shine thanks to the hilarious screenplay by Mark Hammer. 
Unsurprisingly, the biggest scene stealer of the supporting cast is recent Emmy and Golden Globe winner Jennifer Coolidge as Tom's mother Carol. Following her two-season run performance in The White Lotus, this movie is the perfect dessert for fans who want another taste of her unparalleled comedic chops.
Some of the other standouts from the cast of Shotgun Wedding are D'Arcy Carden (The Good Place, A League of Their Own), who plays the younger woman dating JLo's father (Cheech Martin). Lenny Kravitz, Steve Coulter, and Sônia Braga also help to bring laughs to this hilarious project.
The pacing of Shotgun Wedding is a bullseye, full of non-stop laughs.
There's been a trend lately of movies being a bit too long, even the good ones. By contrast, Shotgun Wedding's 100-minute runtime flies by. This is largely thanks to the screenplay, with non-stop jokes that buoy the proceedings and keep the action moving quickly. The supporting cast functions as a fun Greek chorus, as they're trapped together and forced to spend time soggy in an infinity pool.
Another reason why the pacing of Shotgun Wedding is so on point is because it's also got a ton of delightful action sequences. While the stakes are high, the movie never loses its comedic tone. Many of these scenes feature JLo and Josh Duhamel's Darcy and Tom clumsily attempting to get the upper hand on their armed counterparts, and plenty of A+ running jokes are terrifically utilized – one of the highlights being a number of sequences where Lopez's character finds herself holding a live grenade. Jennifer Coolidge gets to get in on the combat as well, including a sequence where she uses a submachine gun, and the movie's truly worth watching for that alone.
The chemistry shared between Jennifer Lopez and Josh Duhamel during these action-heavy sequences is all the more impressive considering how long the pair of A-listers are tied up together in Shotgun Wedding. They had to get close while filming, and it seemed to really pay off in their performance, which also help to execute the movie's breezy pace. 
Jennifer Lopez's comedic timing is truly on fire.
Jennifer Lopez has been keeping super busy in the film world lately, penning a deal with Netflix as a producer while also starring in projects like Marry Me opposite Owen Wilson. And while she's endlessly charming as a rom-com leading lady, she's a bona fide comedic powerhouse in Shotgun Wedding.
There's no denying that JLo is a movie star, and throughout Shotgun Wedding the camera truly loves her. But on top of being gorgeous and charismatic, Jenny from the block's comedic timing cannot be beat in the film – and this includes physical comedy like pratfalls and action fights, as well as hilarious line deliveries. Audiences got to see a taste of this when she appeared on Saturday Night Live and Will & Grace, but Lopez is a true force of nature throughout. It makes one wish that she got more projects that forced her to get silly, because she's really excellent at it. 
Shotgun Wedding is a total blast. Literally. The movie is laugh out loud funny, with humorous and thrilling action. JLo has never been funnier, and the over-the-top comedy is a great start to the moviegoing year.