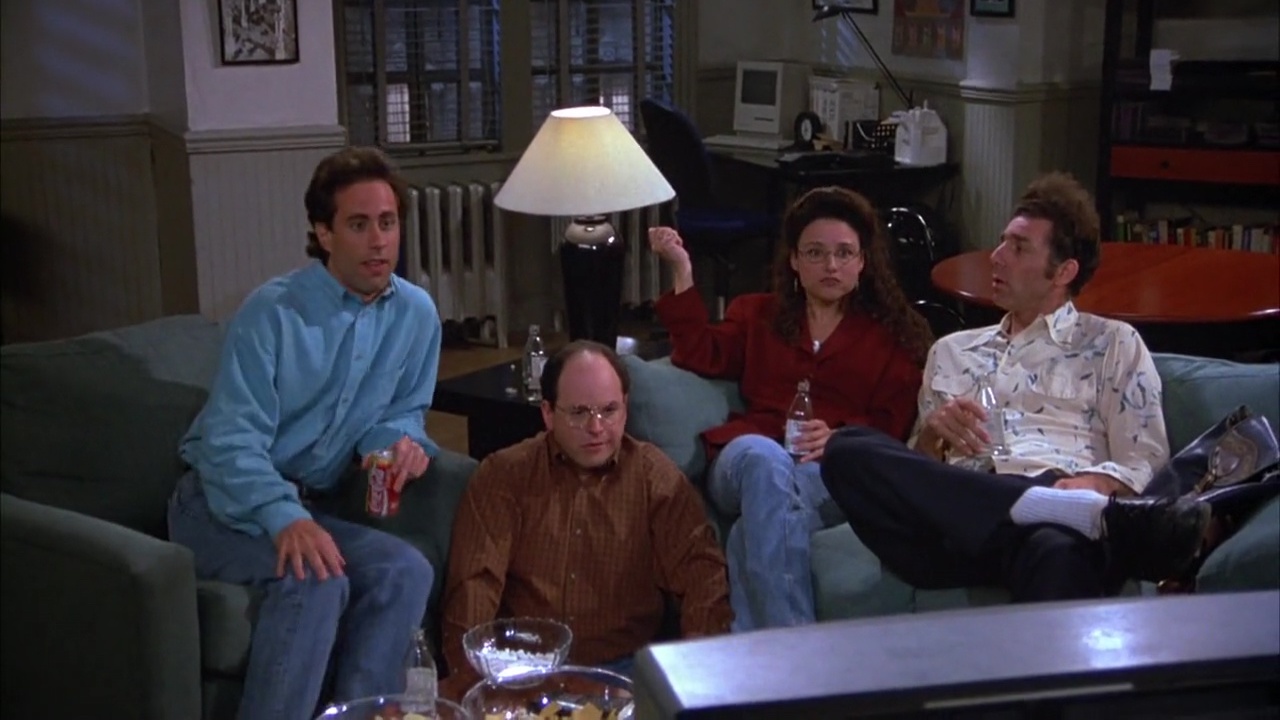 You know a show is ridiculously popular when decades after it's wrapped up, the public continues to watch and reference it. Seinfeld unquestionably falls into that category, because along with the NBC sitcom remaining a rerun staple on traditional TV, it's also been available for Netflix subscribers to stream since October 2021. However, plenty of people are only just now discovering Seinfeld being housed at Netflix, and their responses, much like the breasts of Jerry's ex-girlfriend Sidra (played by Teri Hatcher), are real and spectacular!
With so many shows to keep track of on the 2023 TV schedule already, you wouldn't be faulted for wanting to take a break from the content that's currently airing and play some Seinfeld episodes on Netflix instead. But let's be real, there are also folks who are checking out Seinfeld for the first time (many of whom likely weren't even alive when it was originally running). Should you fall into that latter cap, then Netflix's description of the show may intrigue you.
Yes, Seinfeld continues to be known as the show about nothing, a hook that the fictional Jerry Seinfeld and Jason Alexander's George Costanza used when they were pitching their own show to NBC in Season 4. Now for those of you who are longtime Seinfeld fans and are simply going back to rewatch some of your favorite episodes, if not binge the entire series, there's still the possibility you might see something you didn't notice before, as was the case with this person.
After all this time being a Seinfeld fan, I'm delighted to learn something new about the sitcom version of Jerry Seinfeld, namely that he played Magic: The Gathering, the trading card game that launched in 1993. Moving on, as with any TV show available to watch in Netflix or any streaming service, subscribers can comfortably watch each episode in the proper airing order. However, if you're someone who's spent years watching shows in syndication, then you may like the suggestion from this fan of having the option to go through episodes randomly.
Another benefit of watching Seinfeld on Netflix vs. when it originally aired on NBC is that descriptive audio is available for visually-impaired viewers or anyone wanting to hear a person narrate the actions going on in a scene. This provides an extra element of humor when it comes to scenes involving Michael Richards' Cosmo Kramer.
To summarize, a lot of people are glad that Seinfeld can be streamed on Netflix (opens in new tab). So if you're not in the mood to watch one of the platform's original shows like Stranger Things, Wednesday or The Crown, just know you can always go back to one of the most popular shows of the '90s.
Who knows, if enough people keep streaming Seinfeld on Netflix, maybe the top brass at the streaming service might entertain the notion of making a movie reuniting Jerry Seinfeld, Jason Alexander, Michael Richards and Julia Louis-Dreyfus. Sadly, we've lost many of the actors who recurred on Seinfeld since the show ended, including Liz Sheridan, who played Jerry's mother Helen, dying at the age of 93 last April. But whether a movie comes together or not, at least their performances on Seinfeld live on and are easily accessible to view on Netflix.
After you've gotten enough of a Seinfeld fix on Netflix, take a look through our guide detailing the 2023 Netflix TV Show premiere dates. If you'd rather spend some time in the film realm instead, our 2023 Netflix movie guide can also be looked through.