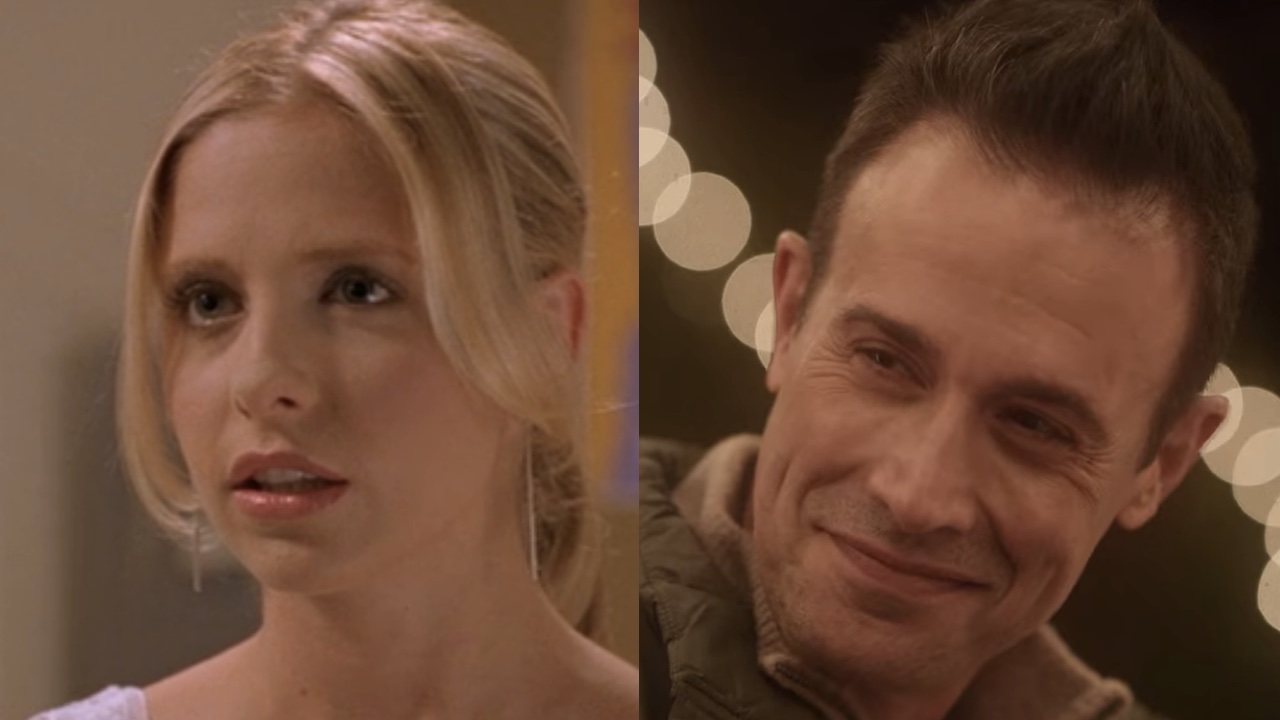 Over the past few years, there's been a seismic shift in the entertainment industry, with plenty of powerful figures being at the center of allegations of being inappropriate on set. Filmmaker Joss Whedon has been at the center of a number of controversies, including a few of the Buffy the Vampire Slayer actors coming out about the experience of working with him. Lead actress Sarah Michelle Gellar has been selective about her comments, while putting her support behind victims who are speaking out. Although her husband Freddie Prinze Jr. got real about the "BS" she dealt with while filming Buffy.
Buffy the Vampire Slayer ran for a whopping seven seasons, and has a devoted fan base that remains to this day. But the show's legacy has been somewhat altered over the past few years, when actors like Charisma Carpenter, Michelle Trachtenberg, and Amber Benson spoke about the set being a toxic environment, and Joss Whedon's behavior specifically. While Sarah Michelle Gellar hasn't shared any of her own stories, her husband Freddie Prinze Jr. recently got honest with THR about what it was like filming that beloved series. As he put it:
There you have it. It sounds like Sarah Michelle Gellar was under a ton of stress while playing the title character of Buffy the Vampire Slayer. That includes a great deal of stunts and action sequences, night shoots, and wildly long hours. And if you ask her husband, she wasn't properly compensated for a lot of that grueling work. Suddenly I'm seeing some real similarities between Gellar and her signature character; they both seemingly had the weight of the world on their shoulders.
Freddie Prinze Jr.'s comments about Gellar and Buffy come from a long story all about SMG, including her personal life and career. After taking a break, she recently stepped back on sets with a supporting role in Netflix's movie Do Revenge, as well as the new Paramount+ series Wolf Pack. While discussing her return to TV, eventually the conversation turned to Buffy and its complicated legacy related to creator Joss Whedon. 
What Sarah Michelle Gellar has said about Joss Whendon and Buffy
During that interview with THR, Sarah Michelle Gellar carefully addressed her experience working on Buffy the Vampire Slayer. She didn't actually mention Whedon by name, and explained why she'll likely never share her full story with the public. In her words,
Of course, Freddie Prinze Jr. was a little more vocal, coming to the defense of his wife. But given how many people love Buffy and how much real pain some of her co-stars have related to their experience on the show, Sarah Michelle Gellar opening up the floodgates would be a lose-lose situation. Although she's no doubt got some stories from those seven seasons saving Sunnydale and the world.
The allegations about Joss Whedon came out in early 2021, when actress Charisma Carpenter (who played Cordelia Chase in both Buffy and Angel) wrote about her harrowing experiences on social media. This led to other actors sharing their experiences online. At that time all eyes were on Sarah Michelle Gellar, who posted her own brief response on Instagram. It read:
There were some talks about Buffy being rebooted, with Sarah Michelle Gellar saying definitively that she wasn't interested in playing Sunnydale's protector again. Although with the ongoing situation surrounding Joss Whedon, I have to wonder if that'll ever actually happen. Luckily for Buffy fans, Gellar is back on television in Wolf Pack.
Buffy the Vampire Slayer is streaming on Hulu, and Sarah Michelle Gellar's new show Wolf Pack will debut January 26th. In the meantime, check out the TV premiere list to plan your next binge watch.