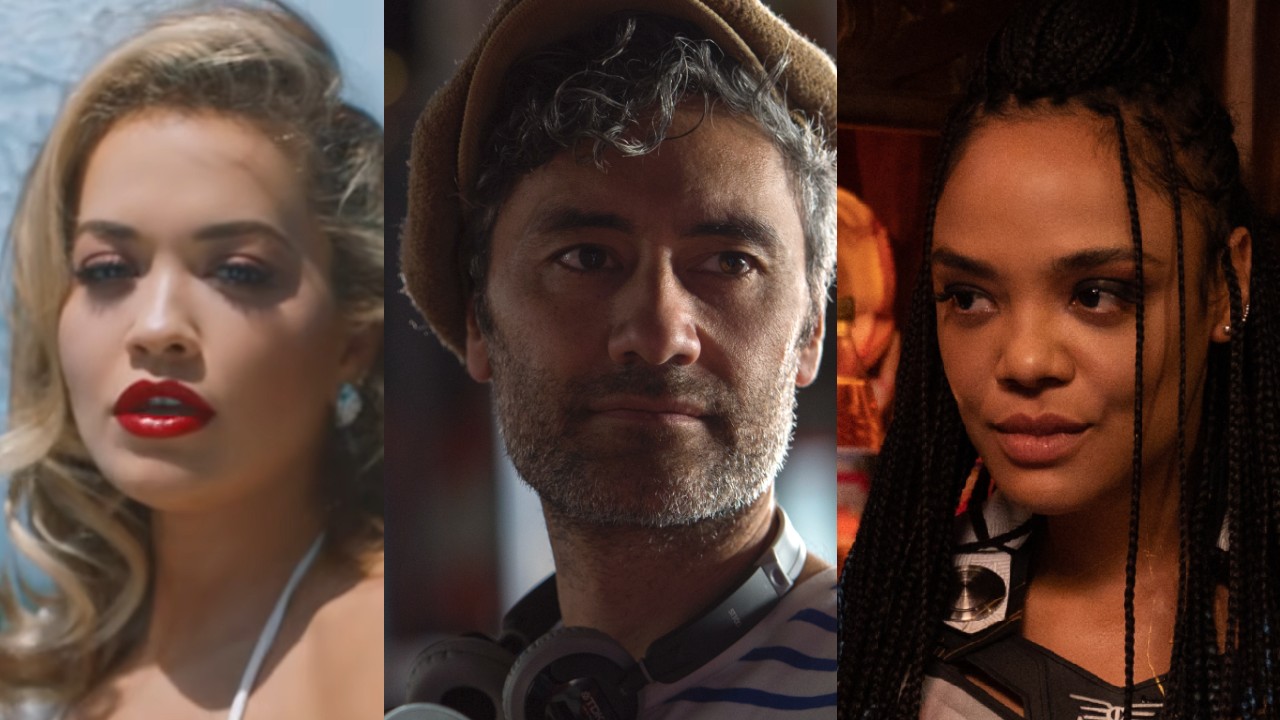 A few years ago, Rita Ora found herself swept up in rumors surrounding her relationship status with Oscar-winning director Taika Waititi after photos surfaced of her, Waititi and MCU star Tessa Thompson sharing an apparent kiss. The photos spawned gossip that the individuals were a "throuple." Ora and Thompson have remained mum on the scenario while Waititi was unbothered when asked about the rumors. Things have changed though, as the British singer finally addressed those persistent rumors.
The TV personality has been enjoying her relationship with the Thor: Love and Thunder director since reportedly tying the knot last year. Rita Ora opened up about the relationship with British GQ. She mentioned feeling "100 percent" settled at this time in her life, but soon the conversation turned from Ora and Waititi being in love to those pesky rumors about the alleged three-way relationship between the couple and Thompson. The "R.I.P." singer finally addressed why she hadn't spoken on the subject until now, saying:
Rita Ora just didn't want to feed the beast by addressing the speculation, unlike her rumored husband. After being in the public eye for over a decade, being rumor fodder is nothing new for the Masked Singer UK judge, including being the rumored "Becky with the good hair" in Beyonce's hit song "Sorry." She learned to not fan the flames of hearsay, and while photos set the internet on fire, Ora chose to focus on her relationship and career, which seems to be working for her. The singer's been gushing over the Thor: Ragnarok director while jumping on multiple TV and film projects.
Ora seemed unbothered about the headline-making photos. She simply equated the series of images to a drunken moment between a group of strangers. The multihyphenate brushed off the rumors by saying the photos were of Waititi and Thompson having a little downtime from a busy schedule:
Despite the suggestions about her relationship with her alleged spouse, Rita Ora did find a bright side in her fanbase seeing the shared kiss. She revealed the following feedback she got from her LGBTQIA+ fans upon the photos hitting the press:
The Voice Australia coach turned an intrusive moment into a slice of representation for those in the LGBTQ+ community who don't see positive images of themselves every day. Rita Ora used the moment to connect with her fanbase.
Since the photos took over the internet, Rita Ora, Taika Waititi and Tessa Thompson have all moved on. Ora and Waititi are enjoying their life as a reported married duo, with the former appearing in the Disney Channel movie Descendants: The Pocketwatch, and the latter helming the sports drama Next Goal Wins, which hits theaters on September 22. Thompson will be seen next in Creed III, which hits movie cinemas on March 3. Check out what other new movies are hitting theaters and streaming platforms in 2023.