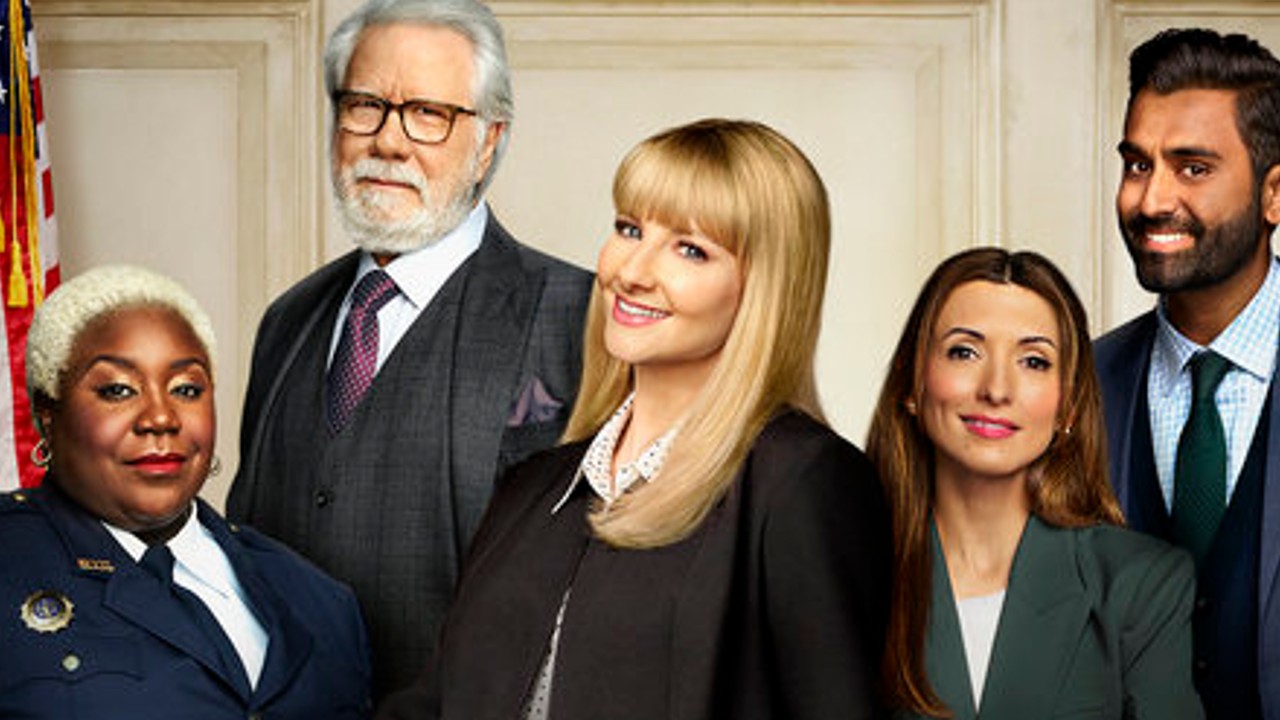 Warning! The following contains spoilers for Night Court's "Pilot" and "The Nighthawks." Read at your own risk!
NBC's Night Court revival is finally here, and while the return of the sitcom was full of laughs and fun, there was a bittersweet element to it. Actress Melissa Rauch portrays Abby Stone, the daughter of Judge Harry Stone, played by the late actor Harry Anderson in the original series. She's joined by original series actor John Larroquette, who is back as Dan Fielding. His character returned in part due to Harry in a memorable moment that longtime fans may appreciate. 
The Night Court revival had the challenge of confirming the fate of the hilarious Harry Stone, with the audience already knowing that actor Harry Anderson passed in 2018 from a stroke at age 65 (via TMZ). Here's how Night Court addressed Harry Stone and found a way for him to have an impact from the beginning.
Night Court Revealed That Harry Stone Is Dead
Night Court could have found a way to keep Harry Stone alive off-camera, or maybe even hired another actor to play the iconic role. The NBC revival decided to go in another direction. Harry is mentioned during the first meeting between Abby Stone and former prosecutor Dan Fielding. Shortly after Abby revealed she was Harry's daughter, Dan was quick to say that while they weren't close in recent years, he was very upset to hear about Harry's death. (You can revisit the moment streaming with a Peacock Premium subscription.)
The brief conversation didn't give a lot of context, but it served as a definitive reveal that the former Night Court judge is canonically dead in this revival. Though Harry is gone, his presence was definitely felt in the premiere when his past actions ultimately brought Dan Fielding back to the courtroom. It was a touching moment that might open the door for the series to pay tribute to the characters played by other departed Night Court actors, such as Charles Robinson's Mac and perhaps Markie Post's Christine Sullivan.
How Harry Stone Influenced Dan Fielding's Return
Night Court's revival revealed that Abby Stone arrived at Dan Fielding's apartment with a job offer, as she was familiar with his past as a prosecutor thanks to her father. Abby told Dan that Harry respected him greatly, and Dan revealed he felt the same. He ultimately agreed to come to Night Court as an observer, despite his steady gig as a process server, after Abby shared a story about the night Harry saved Dan from quitting as a prosecutor. 
Viewers ultimately saw Dan Fielding rejoin Night Court as its public defender. Dan noted the role would be a struggle for him because he doesn't "like people," but ultimately agreed to stick around until Abby could find a more suitable replacement. His stance hadn't changed by the end of the second episode on premiere night, so it seems like Harry Stone's influence helped Abby keep the circus rolling for at least another night or so. 
Night Court airs on NBC on Tuesdays at 8:00 p.m. ET. This new revival is just one of the many exciting shows premiering in the first half of the year, so be sure to check out what's coming to the 2023 TV schedule to help get through those winter months.