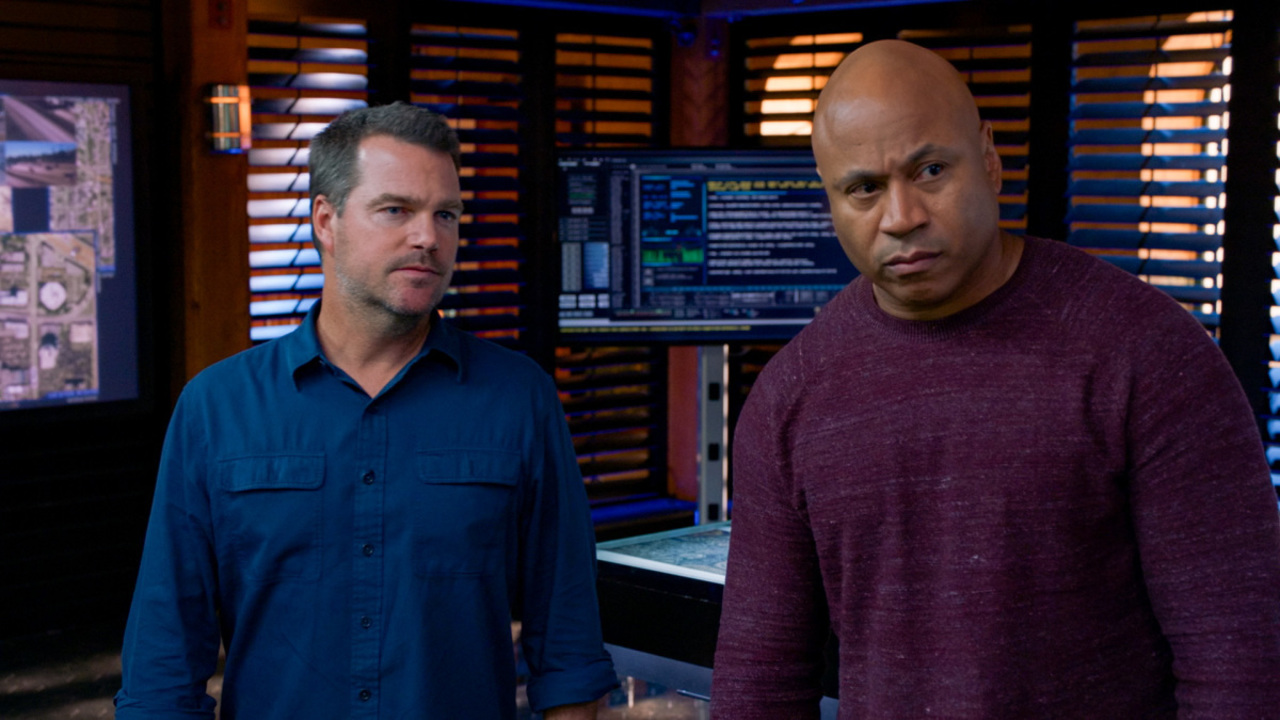 The NCIS franchise has seemingly been going stronger than ever on CBS in the wake of the three-show crossover between the original series, NCIS: Los Angeles, and NCIS: Hawai'i. Now, however, the second longest-running show in the franchise is just months away from ending for good. NCIS: LA is set to conclude with its Season 14 finale in May. With the network promising a "big sendoff," what do fans have to look forward to before the final credits roll? 
News of the NCIS: LA end comes less than two weeks after its successful crossover with NCIS and Hawai'i, and the series already has a date for the series finale: May 14. CBS Entertainment President Amy Reisenbach paid tribute to the show and teased a bit of what's still to come, saying in a statement (via THR):
There's no denying the success of NCIS: Los Angeles, as few network TV shows are able to run for 14 seasons and hit the 300-episode milestone, which LA reached back in April of 2022. The show was a hit out of the gate when it premiered in 2009, and outlasted the NCIS: New Orleans spinoff that wrapped back in 2021 and hit series lead Scott Bakula very hard. Amy Reisenbach's statement may be bad news for fans who would have loved to see LA continue long enough for more mega crossovers, but the promise of a "big sendoff" is something to look forward to in the weeks ahead of the finale.
It's early enough that the show may not actually have specific plans for the ending just yet, although I'm sure I'm not the only one hoping that Hetty will be able to make at least one more in-person appearance, depending whether or not it would be possible with actress Linda Hunt. Hetty's absence has affected the other characters, and it would be a relief to see her again as a bookend. 
After all, three of the four main agents have been on board from the very beginning, with Eric Christian Olsen's Deeks joining Chris O'Donnell's Callen, LL Cool J's Sam, and Daniela Ruah's Kensi as a series regular in Season 2. An upside to the news of the show ending is that there is time to plan a finale that can (hopefully) stick the landing after 14 seasons and more than 300 episodes. In a statement of his own, showrunner R. Scott Gemmill revealed the plan to deliver "an end to the series that is both satisfying and does justice to these beloved characters."
NCIS: Los Angeles will have run for 322 episodes by the time the final credits roll. While that may seem like a small number in comparison to shows like parent series NCIS, Law & Order: SVU, and Grey's Anatomy, few shows are able to run for as long with as much success. There have been weddings, funerals, entrances, exits, highs, and lows over the years since 2009; more highs and lows are undoubtedly still to come in the remaining months. 
For now, fans can still look forward to new episodes on Sundays at 10 p.m. ET on CBS in the 2023 TV schedule. If you've missed any of Season 14 so far, you can catch up streaming with a Paramount+ subscription.