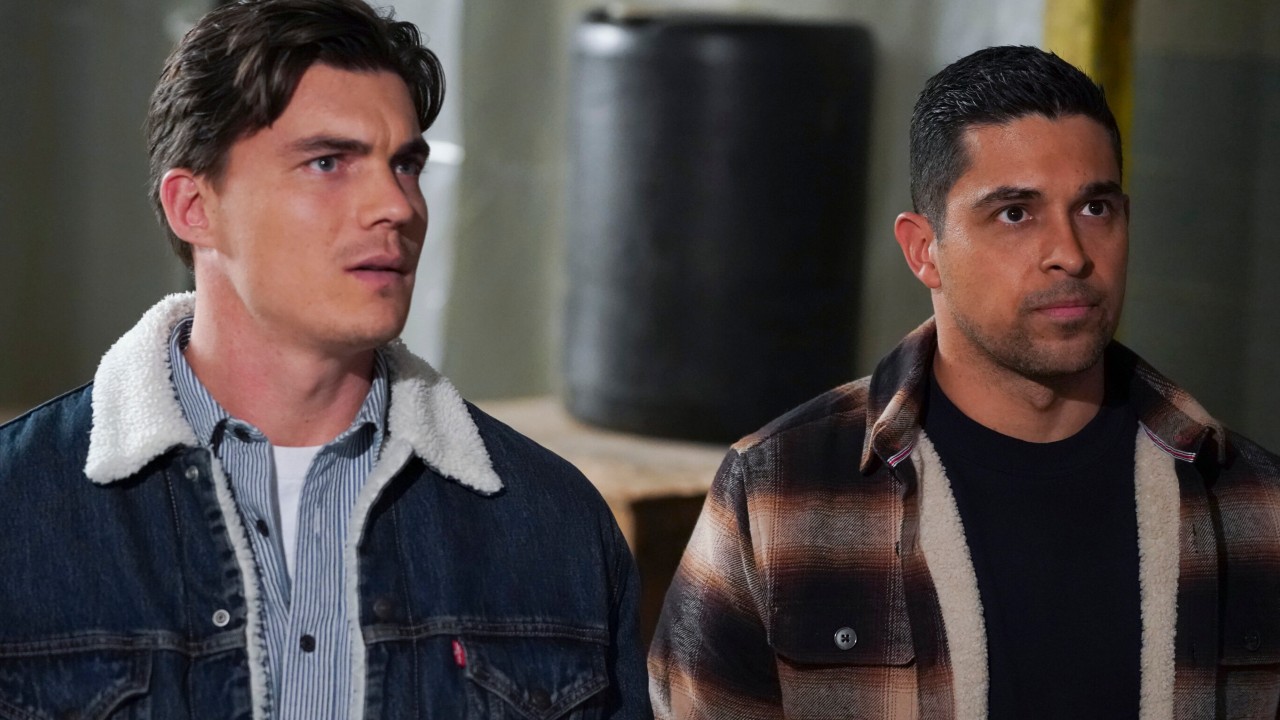 Warning! The following contains spoilers for the NCIS episode "Big Rig." Read at your own risk!
It seems like NCIS fans are always getting excited about the idea of seeing former stars like Michael Weatherly return or Leroy Gibbs showing up for one more mission, so it's nice to see a recurring guest star getting a lot of love for a change. Actor Zane Holtz returned to the CBS series to reprise his role as Special Agent Dale Sawyer, and I'm one of a number of fans suggesting he sticks around for longer to develop this potential bromance with Nick Torres. 
Dale Sawyer had a shocking first scene in "Big Rig," as his reunion with Nick in a dark alley suggested that he was in some deep trouble and maybe even the prime suspect in a murder case. Although Sawyer disappeared, Nick was able to find him with the help of the NCIS crew as part of a deep-cover FBI operation. Nick attempted to also infiltrate the crime organization to protect the agent, but his involvement only sounded the alarm and blew both his and Sawyer's cover to the criminals. 
Ultimately, the situation worked out alright, and both men made it through the incident unscathed. Since both Nick and Sawyer lived to fight another day, let's dig into their moments in this episode and why CBS should absolutely consider giving actor Zane Holtz more appearances going forward as Dale Sawyer. 
Torres And Sawyer Have A Captivating Dynamic
It feels as though "Big Rig" was written so that the NCIS audience wouldn't really know if Nick could truly trust Dale Sawyer in their latest meeting. The positive of that ambiguity is that it led to a wonderful dynamic between the two. Both men butted heads when Nick finally tracked Sawyer down and had to put his trust in him that he just needed more time to crack the case open. Likewise, Sawyer had to accept Nick wouldn't let him stay in cover alone and had to tolerate Nick's continued involvement in the operation unless he wanted the whole thing called off. 
While Nick's power play ultimately almost got them both killed, there's no denying their back-and-forth dynamic in the episode was captivating. They are both similar in believing they know the best way forward in a situation and are also unwilling to fully relent to the other's plan. 
This created problems, obviously, but when the stuff really hit the fan, both men worked in tandem to capture those fleeing criminals like a well-oiled machine. It was almost reminiscent of the peak Torres and Bishop team-ups, though without the romantic tension. It was just two agents upholding the law, which is the premise for a lot of classic Hollywood projects. 
Sawyer Seems Like A Natural Addition To The NCIS Team
Actor Zane Holtz made his debut as Dale Sawyer in the Season 18 episode "Gut Punch" and popped up again in Season 19's "Fight or Flight." NCIS seems to enjoy bringing the character around, and Sawyer seemed a natural fit at that trivia party with the team at the episode's end. He even brought pizza to the shindig, which absolutely scored bonus points with the task force. 
Admittedly, I'm not sure how an agent who now seemingly specializes in deep-cover missions can naturally be incorporated into NCIS episodes on a week-to-week basis. Perhaps, though, this latest adventure will convince Sawyer that was a wrong career choice, and he'll get a job working as an agent along the NCIS team. There could be growing pains in having another character like Torres in the mix if that happened, but I think it'd be worth it in the long run. 
Torres Needs Another Team Member To Be Close To
I mentioned Ellie Bishop earlier in this article, and while that was mainly for a joke, I haven't seen Torres really connect with a character on NCIS on the same level that he did with Sawyer in "Big Rig." Torres definitely has that "lone wolf" kind of personality and plenty of sad stories about his life, and I think while NCIS may not need another love interest to take away from the adorable Jimmy and Knight romance, a best bro like Sawyer can help fill that void in his life. We won't know for sure unless Zane Holtz returns for even more episodes, so let's hope the writers feel the same way. 
NCIS airs on CBS (opens in new tab) on Mondays at 9:00 p.m. ET. Those on streaming can also keep up with the series with their Paramount+ subscription and check out some of the other great shows available to stream on the platform.