Mayor of Kingstown came in hot when it made its debut on Paramount+ back in 2021. Viewers were swiftly captivated by the show, which sees Jeremy Renner play a right-hand man-turned-mayor of a Michigan town. The show just kicked off its second season, though that unfortunately came on the heels of Renner's unfortunate snow plow accident. While the actor's health and well-being are the most important matters at the moment, some are still likely wondering if a third season could be in the cards at some point. The series' co-creator and EP is now speaking out about the future as well as Renner, who just posted about missing his "happy place."
Many were taken aback when it was reported that Jeremy Renner had been hospitalized on New Year's Day due to what was initially referred to as a "traumatic" weather-related accident. While speaking with Deadline, Mayor of Kingstown co-creator Hugh Dillon recalled how he learned of his colleague's ordeal. Dillon explained that he was first notified of the situation by a co-worker and, surprisingly enough, he later heard from the actor himself:
At the time that the accident occurred, Jeremy Renner was using his plow – following a major snowstorm – to clear a road so that a family member could get out of their car. Per the mayor of Reno, Nevada, Renner exited his vehicle to talk to the relative, but the plow continued to move and ran over the 52-year-old actor. He was eventually airlifted to a hospital and admitted to the ICU, and it was subsequently reported that he was stable but in critical condition. 
The star has since kept the public updated on his condition via social media and, as his collaborator suggested, his posts have been generally lighthearted and cheeky. This past weekend, he even sent out a message from his hospital bed. And just this week, the Hawkeye star shared a photo of his snow-covered home or "happy place" to his Instagram stories. Check it out down below: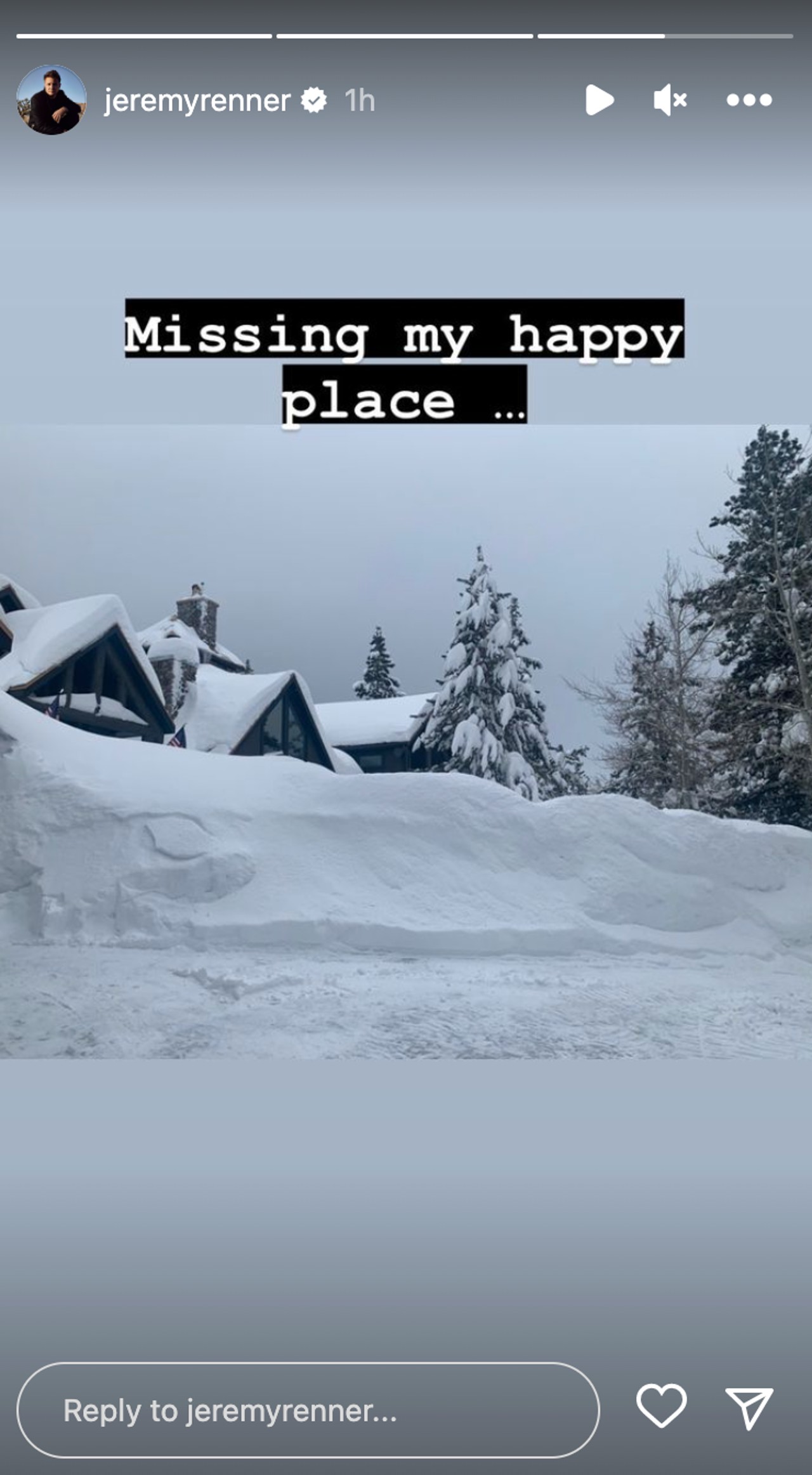 Hugh Dillon – who also plays Ian Ferguson on the drama – previously opened up to CinemaBlend about the NSFW moment he knew his buddy would be OK. During this latest chat, the actor/producer didn't say if the leading man's situation would affect production on a third season. Though he did confirm that he and co-creator Taylor Sheridan are already brainstorming on their plans:
At this point, it's unclear as to how much recovery time Jeremy Renner will require, but one would think that Hugh Dillon and co. would be willing to accommodate him. Surely, they just want to see their esteemed "family" member heal up. And as he does so, let's take a cue from Dillon and stars like the considerate Mark Ruffalo and Chris Evans and send Renner some positive vibes as he pines for his "happy place."
Mayor of Kingstown Season 2 debuts new episodes on Sundays for Paramount+ subscription-holders as part of the 2023 TV schedule.