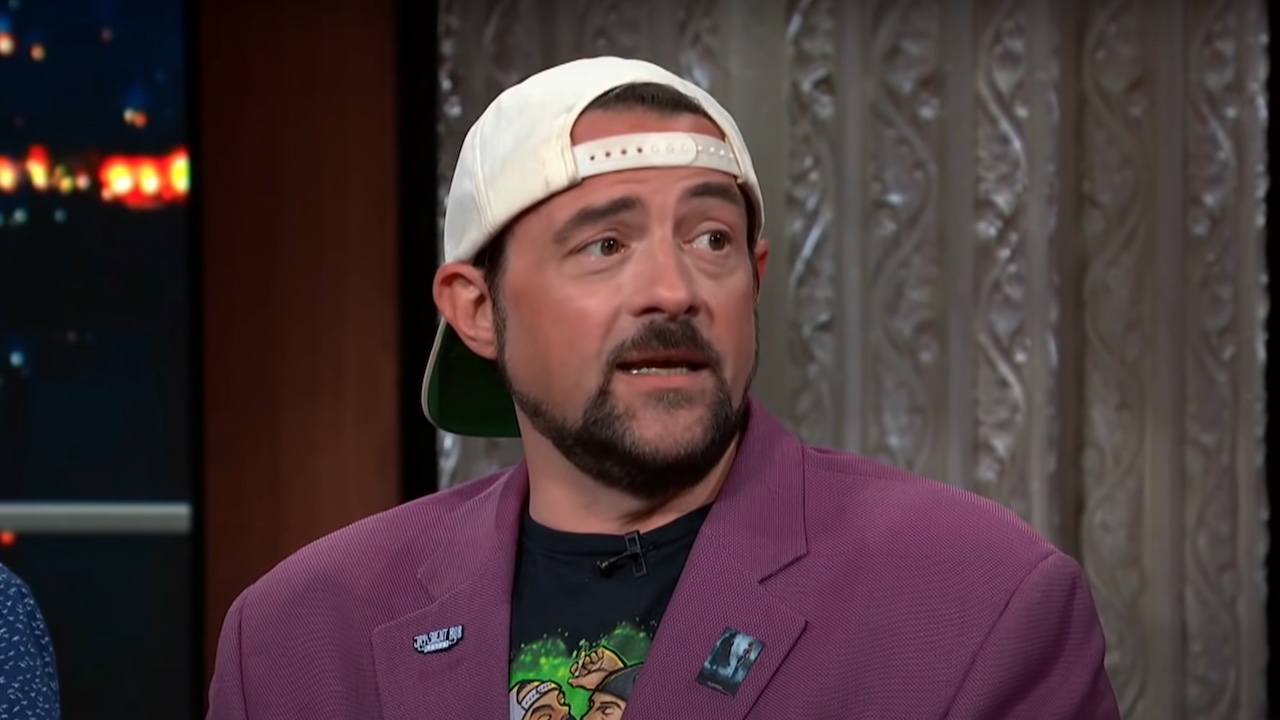 It seems like many are excited about That '90s Show, Netflix's new spinoff of the hit sitcom, That '70s Show. Not only are there cameos from some of fans' favorite '70s characters, but the '90s nostalgia is sure to bring back some memories for some. One person who's very excited is Kevin Smith, whose films were practically staples for teenagers during that decade. When the actor/director was name-checked with his film Clerks in an episode of the show, he couldn't help but express his excitement on social media.
In an episode of That '90s Show, amid a trip to the video store, Jay Kelso recommends that Leia Forman rent Clerks. Leia, who pretends to be familiar with the movie, claims that she loves Kevin Smith and that he is "so sexy in that." Smith was seemingly over the moon about being referenced on the show and took to Twitter to his appreciation. You can see his comments below:
Thank you to #That90sShow for including a reference to my favorite 90's veteran and his debut film!As a TV baby, I still get a rush whenever my name or work is shouted out in media I didn't create.And the fact that @tommychong was the button was bliss!This made my morning! https://t.co/NEMFKoxfvRJanuary 19, 2023
See more
It's easy to see why the filmmaker and fanboy would be excited to see their work referenced and seen as a cultural touchstone, but the he shouldn't be surprised. Clerks, along with favorites like Mallrats, Chasing Amy, and Dogma, are all considered to be '90s comedy classics. Not only that, but they're credited as being successful independent films that helped usher in the rise of indie movies, which arguably became more popular during the decade. (On a side note, Kevin Smith was also the reason Good Will Hunting got made, and it doesn't get more 90s than that.)
Like That '90s Show, Kevin Smith has been getting nostalgic himself. The Tusk director helmed the surprising Clerks III in 2022, and it brought back the eclectic vibe of the original film. It even returned Smith's old friend Ben Affleck to the View Askewniverse. It was a celebrated development for fans, and many are probably hoping that the two collaborate again at some point.
Just like the New Jersey native's work That '90s Show already has the potential to be an instant classic. Not only do viewers get to see their favorite That '70s Show actors reunite, but the series also pays homage to other shows of the decade, like Beverly Hills 90210. Currently, critic reviews on the Netflix comedy are mixed but, just like a number of famous sitcoms, the show may just need a little time to find its own unique voice. One can only hope it'll do that and maybe provide viewers with some other cool cultural references should it get another season.
You can catch That '90s Show right now using a Netflix subscription. Those wanting to relive the Kevin Smith craze from the decade can stream Clerks with a Paramount+ subscription. And if you've finished the spinoff and are already looking forward to what's ahead, check out CinemaBlend's 2023 TV schedule.