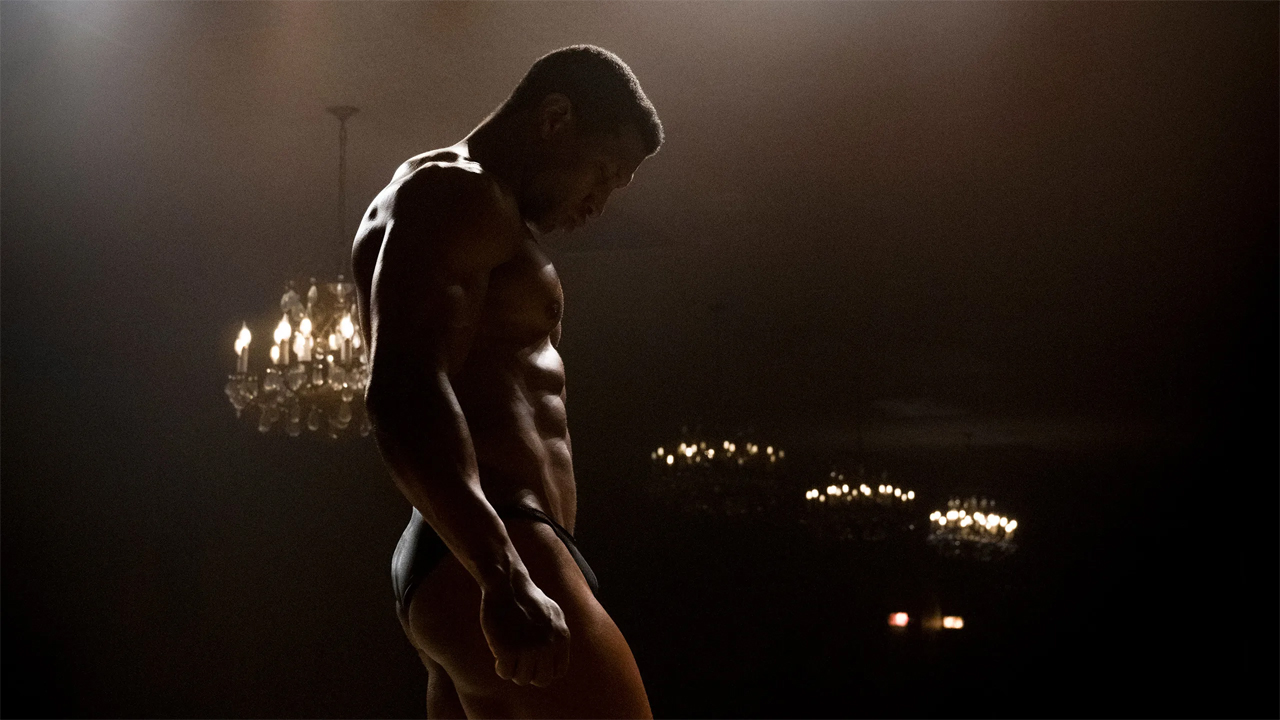 Elijah Bynum's Magazine Dreams is of a genre one might call the "unstable character study." Robert De Niro's phenomenal turn as Travis Bickle in Martin Scorsese's Taxi Driver is both the prototype and the aspiration, and we have seen the model reveal dark and terrifying sides of some of the industry's most talented and beloved performers in the decades since that landmark film. This is a class that includes Tom Hardy in Nicholas Winding Refn's Bronson, Jake Gyllenhaal in Dan Gilroy's Nightcrawler, Daniel Day Lewis in Paul Thomas Anderson's There Will Be Blood, Joaquin Phoenix in Todd Phillips' Joker, and Adam Sandler in Josh and Benny Safdie's Uncut Gems.
That's a legacy that henceforth will now also include conversation about Jonathan Majors' time playing aspiring bodybuilder Killian Maddox: a showcase that only further proves that Majors is ready to be recognized as being among the best actors of his generation.
Premiering at this year's Sundance Film Festival, Magazine Dreams keeps a gripping hand around your throat as Killian Maddox grasps for glory and notoriety while suffering from serious and crippling emotional issues. It his goal to perfect his physique so that he may win bodybuilding contests and appear on the covers of all the big fitness magazines, and doing so means unleashing constant punishment on his body – including digesting over 6,000 calories a day, working out obsessively, and taking steroids.
Unable to make interpersonal connections, he alienates everyone in his life except for his grandfather (Harrison Page), with whom he lives, and he begins to spiral out as he goes on a disastrous date with his crush (Haley Bennett), destroys a storefront in a rage, and becomes obsessive about meeting his bodybuilder idol (Mike O'Hearn).
Between Peyton Reed's Ant-Man And The Wasp: Quantumania and Michael B. Jordan's Creed III, 2023 was really already guaranteed to be a massive year in the career of Jonathan Majors, but it's hard to imagine right now that it won't be his work in Magazine Dreams above the others that is most prominently remembered. The commitment demonstrated in his frightening physical transformation is its own kind of special and intense, but truly its dwarfed in the magnitude of the emotional transformation.
Majors has thoroughly proven that he can be charisma incarnate on screen, but this is about as far a swing away from that as is possible. In close-up, what we see in Killian's eyes is swirling pain and rage, and it's hypnotizing in a way that being trapped in a small room with a grizzly bear is hypnotizing. Childhood trauma, rage and self-esteem issues, and dark, anti-social tendences have rendered this man unpredictable and dangerous, and you become afraid of taking your eyes off him.
It should probably come as no surprise that kind of anxiety is only encouraged in the work done by Elijah Bynum, both in his script and his direction. With the former, the excellence is primarily executed in the escalation of action. It is not long into Magazine Dreams that Killian refuses surgery to remove tumors from his liver because a scar would kill his bodybuilding dreams, and while that's pretty goddamn intense, it pales in comparison to what's to come.
In collaboration with cinematographer Adam Arkapaw, Elijah Bynum's work with the camera is just as intimate as his script, and the work is dark and atmospheric to the point of being emotionally evocative. He puts a great deal of trust in the capacities of his actors, and it doesn't just pay off with Jonathan Majors; the evolution of Haley Bennett's Jessie while she is out on a date with Killian is amazing, and while I won't get into spoilers, there's a sequence with Craig Cackowski late in the film that will never let you listen to Patti Smith's "Because The Night" the same way again.
Following its Sundance premiere, the movie does not yet have a distributor, but it's impossible to imagine that it will be long before that circumstance is rectified, and when it is, hopefully it  will get the prime awards season release date that it deserves. Cinephiles have really been awaiting Jonathan Majors assentation in Hollywood since his scene-stealing turn in Joe Talbot's The Last Black Man in San Francisco, and Magazine Dreams is him arriving at an exciting new level.