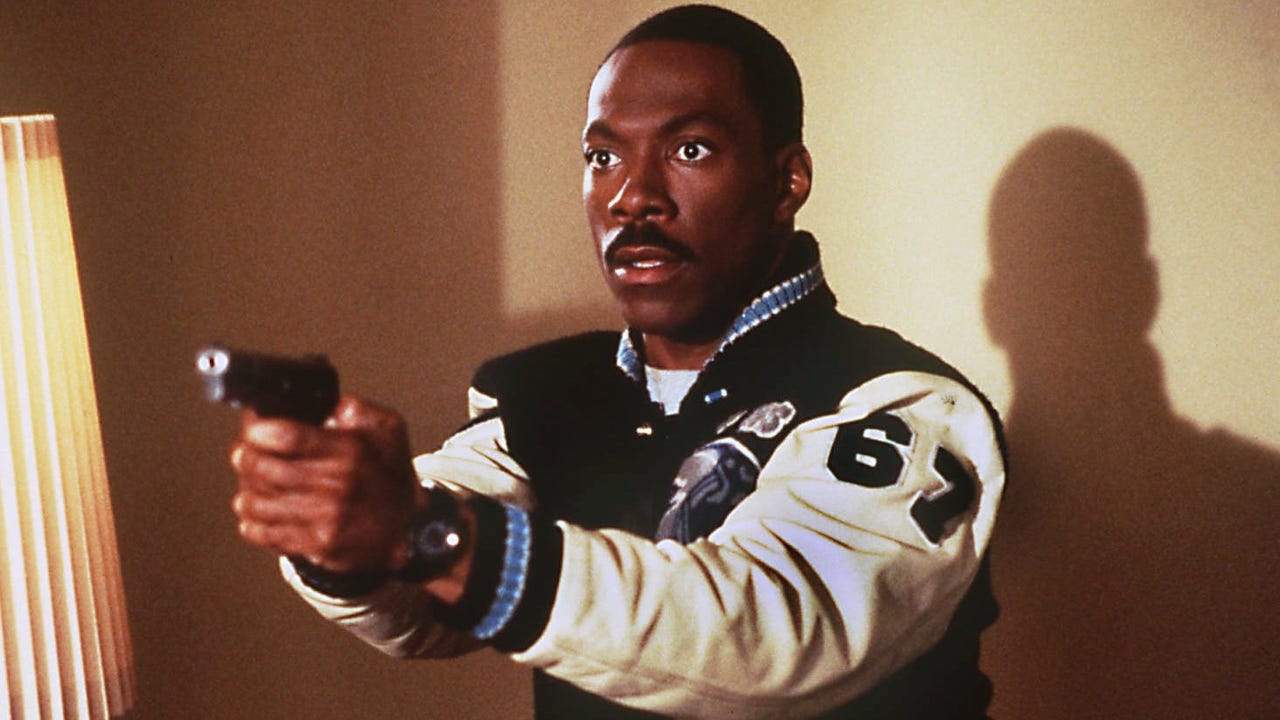 It's been over three decades since audiences last saw Eddie Murphy play the wise-cracking detective Axel Foley. Of course, he'll be reprising that role in the long-awaited fourth installment, Beverly Hills Cop: Axel Foley. Murphy unsurprisingly had to get back into swing of things when it came to doing stunts for action sequences. Said moments are thrilling for audiences to watch but, as we know, they're not always easy on the actors performing them. It sounds like Murphy had quite the experience working on the highly anticipated film, as he got real about feeling like he was "going to die" amid production.
The fan-favorite actor came clean about doing stunts in his 60s while speaking to ET following his news-making Cecil B. DeMille Award speech at the 80th Golden Globes. The Coming 2 America star mentioned that he was 21 when he did the original Beverly Hills Cop (which is considered to be one of the best Eddie Murphy's films). Unsurprisingly, doing stunts at the age of 61 is a lot different from doing them at 21. Murphy explained to the news outlet just how rough the shoot got at points and recalled a conversation with producer Jerry Bruckheimer, during which Murphy brought up another iconic star:
To be quite honest, it's totally fair for the comedian to compare himself to Morgan Freeman in this regard at this point of his life. Freeman has appeared in many action films in recent years, including the Dark Knight trilogy and Lucy, without having to throw hands or run for yards. It's worth mentioning, though, that the Oscar winner is two decades older than the Beverly Hills Cop star, though.
Eddie Murphy shared more behind-the-scenes details about his reprisal of the Detroit police officer. He explained that he and Jerry Bruckheimer ultimately landed on a system for that would work for production and presumably keep the actor safe. But that didn't make things totally easy for Murphy, it seems:
Sounds like fans will indeed see Eddie Murphy do some action stunts throughout the flick. While Murphy may have walked away with a few aches and pains, he surely didn't die. Plus, he's also a professional and knows that the work has to get done one way or another. Hopefully, his efforts won't be in vain, and the fourth installment in his franchise proves to be a hit.
A release date has not been announced for Beverly Hills Cop: Axel Foley just yet, but it's been confirmed to premiere on Netflix. Murphy revealed that he wrapped the third sequel alongside franchise staples like Judge Reinhold and Bronson Pinchot and newbies like Taylour Paige and Joseph Gordon-Levitt, who was delighted to work with Murphy. Ahead of the action comedy's debut, you can catch Murphy's latest comedy, You People, using an active Netflix subscription when it premieres on January 27 as part of the schedule of 2023 new movie releases.