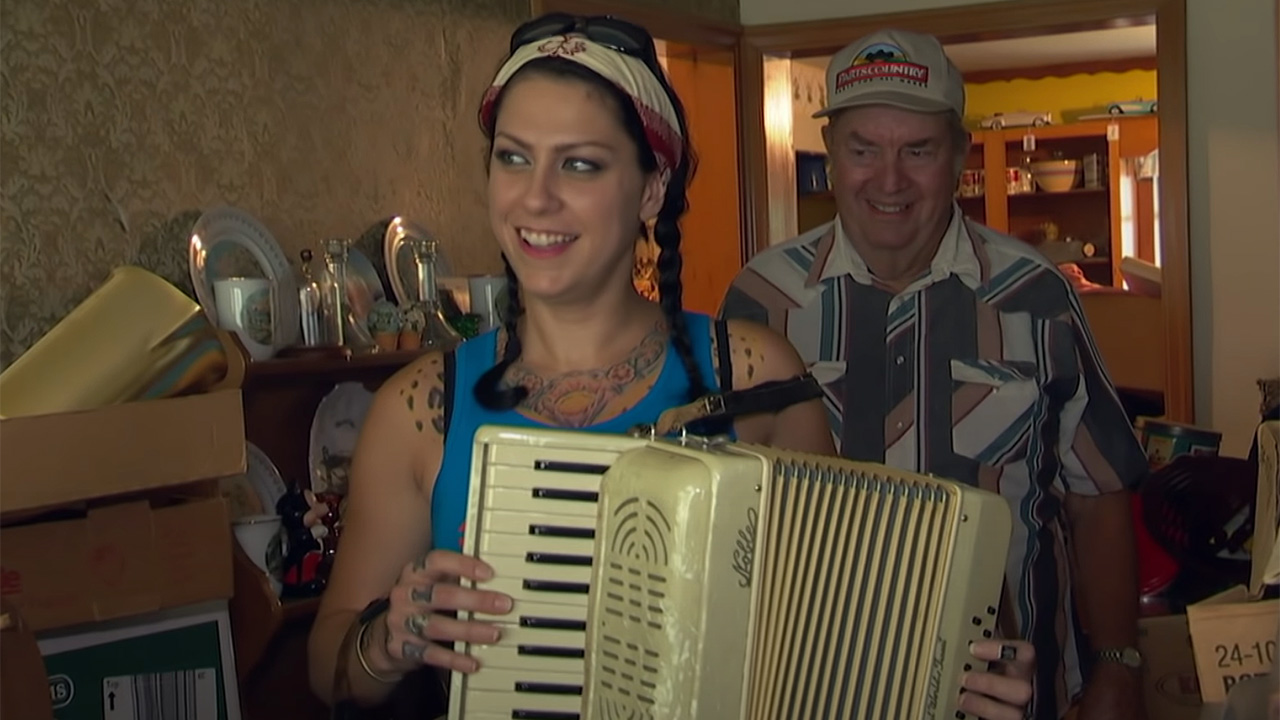 Danielle Colby may be most-known for her work on American Pickers, but she's also a thriving creative and advocate for burlesque and body positivity in general. She'll often share photoshoot looks with her fans on social media and this week was no exception. This time, however, she went a little more over-the-top than usual and turned herself into a bowl of Fruit Loops for a new bathtub photoshoot.
One thing I really appreciate about the reality star's posts is how cheeky they are. Colby actually shared a nude photograph to kick off the New Year in 2023 and captioned it "Happy Nude Rear." This time, she shared a bathtub photo filled with milk and cereal on Instagram and captioned it "Who's ready for a midnight snack?"
From the angle we get a glimpse at some of Danielle Colby's lesser-seen back tattoos, including what looks to be a nod to Man Ray's infamous Le Violon d'Ingres photograph — the one with the f-holes painted on the model's back. Hers would be a little more permanent, but if my guess is legit it's a flipping cool tattoo. 
I've seen Danielle Colby share some pretty creative photos in the past, but this one takes the cake – or I guess takes the cereal? – in terms of just going all out on a concept. It's an amusing idea to turn oneself into a bowl of Fruit Loops and it's definitely an attention-grabbing look, with the brightly-colored cereal popping against the milky tub. She also shared the look on her Instagram story amidst some fun burlesque footage, as well.
Why Burlesque Is A Core Passion For Danielle Colby
Burlesque is what the American Pickers star is seemingly most passionate about. TV fame is well and good, but the reality star has been honest in the past about it being a calling for her. Onstage she'll go by Danny Diesel, and she's been candid about her Jehovah's Witness upbringing making activities like burlesque feel taboo until she opened herself up to new experiences. She's told Fox News it helped her to "blossom" and "taught" her a lot about the person she wants to be.
She's tried to send the same messaging to her daughter, Memphis, who has a thriving OnlyFans.
Occasionally, Colby's openness with her body has Danielle Colby in trouble on social media, though she's been candid about fighting the perception that burlesque may be unsavory, and noted on the post Instagram pulled that she was wearing a costume "the same size as a bikini." Despite a few hiccups, she's managed to plug the two big pieces of her life together fairly well. By day, she's Danielle Colby, Antique Archaeology Extraordinaire. In her off hours, Dannie Diesel gets up to Fruit Loops shenanigans and more.
If you prefer how she presents on TV, you're in luck as well. Episodes of American Pickers frequently air on History and, in fact, new episodes just kicked off this month. You can check that out and more coming to TV this winter with our full TV schedule.