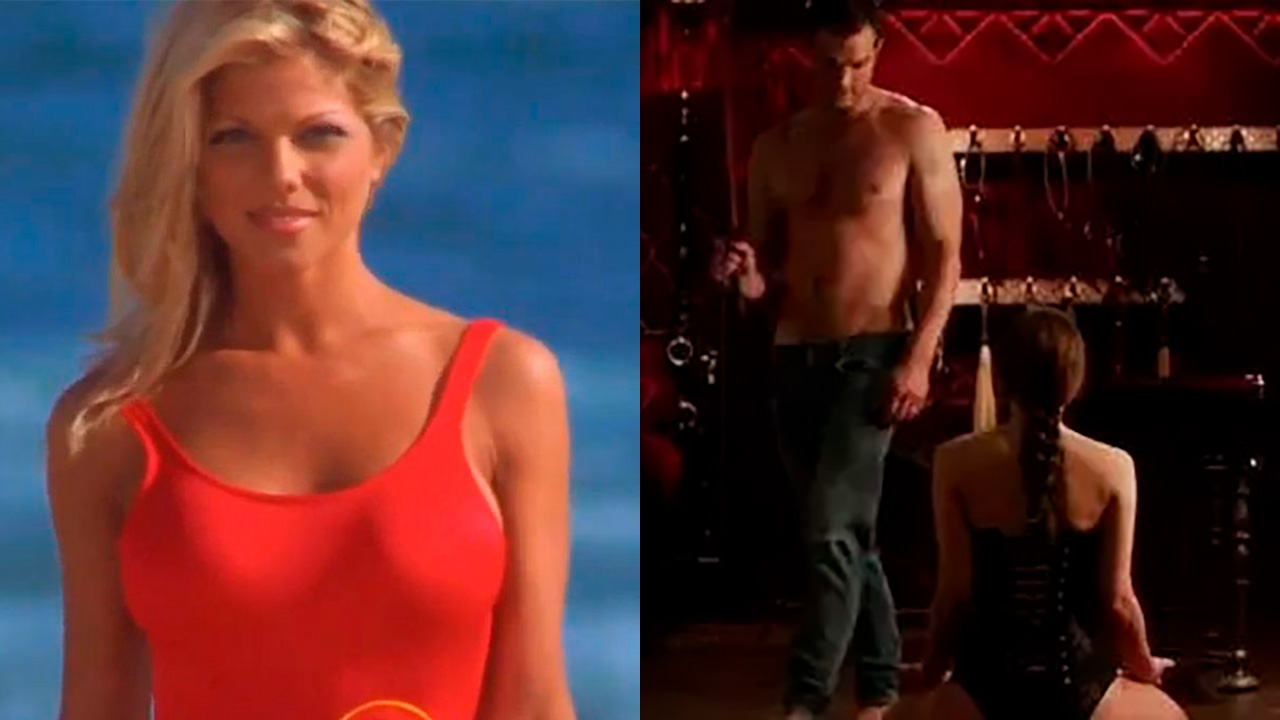 Despite being well over 50 years of age (she's 54) and getting shamed for posting bikini photos in recent years, former Baywatch star Donna D'Errico does not seem to care what the haters think. Case in point, she's previously clapped back at trolls and this week she suited up in a look that showed off a bit more than the average bikini, calling it her "50 Shades of Donna" era. Yes, she showed off a bondage look. 
While it's probably worth noting here that in the actual 50 Shades of Grey trilogy, while all kinds of bondage equipment is used, Dakota Johnson is actually typically fairly demurely dressed. The one exception would probably be the infamous Red Room scene in the third movie. Costume designer Shay Cunliffe put Dakota Johnson in a corset to help her achieve more of a real bondage look. In this case, Donna D'Errico donned an even more over-the-top look she called "sliving," to borrow Paris Hilton's famous phrase.  
Probably my favorite thing about this post outside of the fact that D'Errico doesn't take any crap from her naysayers, is the fact that Cypress Hill commented with the two hands clapping emoji. You don't see that coming. In fact, however, while D'Errico has had to deal with haters in the past, most of the comments on this post are of the pretty positive variety. Real Housewives alum Peggy Tanous even asked the other TV star where she got the suit, writing, "Love this pic and love that suit. Where did you get it???"  Others sent a slew of heart, temperature and fire emojis.
While Donna D'Errico is still acting occasionally on TV, popping up in episodes of Brooklyn Nine-Nine, 9-1-1 and the short-lived Roadies in recent years, she's transitioned a lot of her brand to OnlyFans where she and some other Baywatch alums have found lucrative careers – as her former co-star Carmen Electra noted there's a lot of freedom on OF and "there's no one telling you what to do." D'Errico runs her account herself. 
Previously, D'Errico made headlines after a bikini she'd chosen for a Fourth of July celebration went viral; while the Baywatch star is extremely fit for 54, some people were unhappy with how skimpy her look was. D'Errico posted about the bikini shaming at the time, and has doubled down since then on posts showing off her body, including themed lingerie posts for Halloween and the Christmas holiday. 
She's still occasionally dealing with trolls, however, as one individual asked her "thirsty much?" on her recent Santa post. To which Donna D'Errico responded:
So whether she's being naughty or nice, it does seems she's still taking flack for doing the unexpected at 54. We'll keep you updated as this latest post continues to gain traction and see if she has any comments related to that as well.