This year marks the 45th anniversary of Stephen King's short story collection Night Shift, and it's a tome that should not only be celebrated for its literary legacy (being the first of 10 omnibuses to be published by King to date), but because of its impact on the filmmaking world. In the last half century, the 20 stories included between its covers have inspired 10 Hollywood adaptations – from Children Of The Corn to the premiere episode of the Creepshow TV series – and while that number counts the controversial 1992 film The Lawnmower Man, it doesn't include the many sequels that have also been produced or the movies that have been made as part of the Dollar Baby program.
It's a well from which many still drink. 2023 will likely see another title added to the expansive library with Rob Savage's The Boogeyman – which has completed production but presently doesn't have a release date – and the most recent adaptation was released less than two years ago: the on-going Epix series Chapelwaite, which is based on the very first story in Night Shift: "Jerusalem's Lot."
It was in late 2019 that the gothic horror show got off the ground, and it did so quickly. When the subscription cable channel became involved with the show, it wasn't just a pilot that was ordered, but a full season. Brothers Jason and Peter Filardi (the latter with prior King experience having written the 2004 Salem's Lot miniseries and an episode of Nightmares & Dreamscapes) were attached as showrunners, and Oscar-winner Adrien Brody signed on to play the lead. The series couldn't use the title Jerusalem's Lot because Warner Bros. was simultaneously developing a film adaptation of Salem's Lot, and so it was named Chapelwaite, based on the estate that serves as the story's principal setting.
Plans to start production the following spring were thwarted as a result of the COVID-19 pandemic, but they weren't totally derailed. Filming began in Halifax, Nova Scotia, Canada (the same area where the Bag Of Bones miniseries and The Mist TV show were shot) in late August 2020, and almost exactly one year later, on August 22, 2021, the premiere episode debuted on Epix.
As I've previously addressed in this column, it can be an extreme challenge translating a short story into a 90 minute feature film let alone an on-going series, but that fact has simply proven to be a feather in the cap of Chapelwaite – the subject of this week's Adapting Stephen King.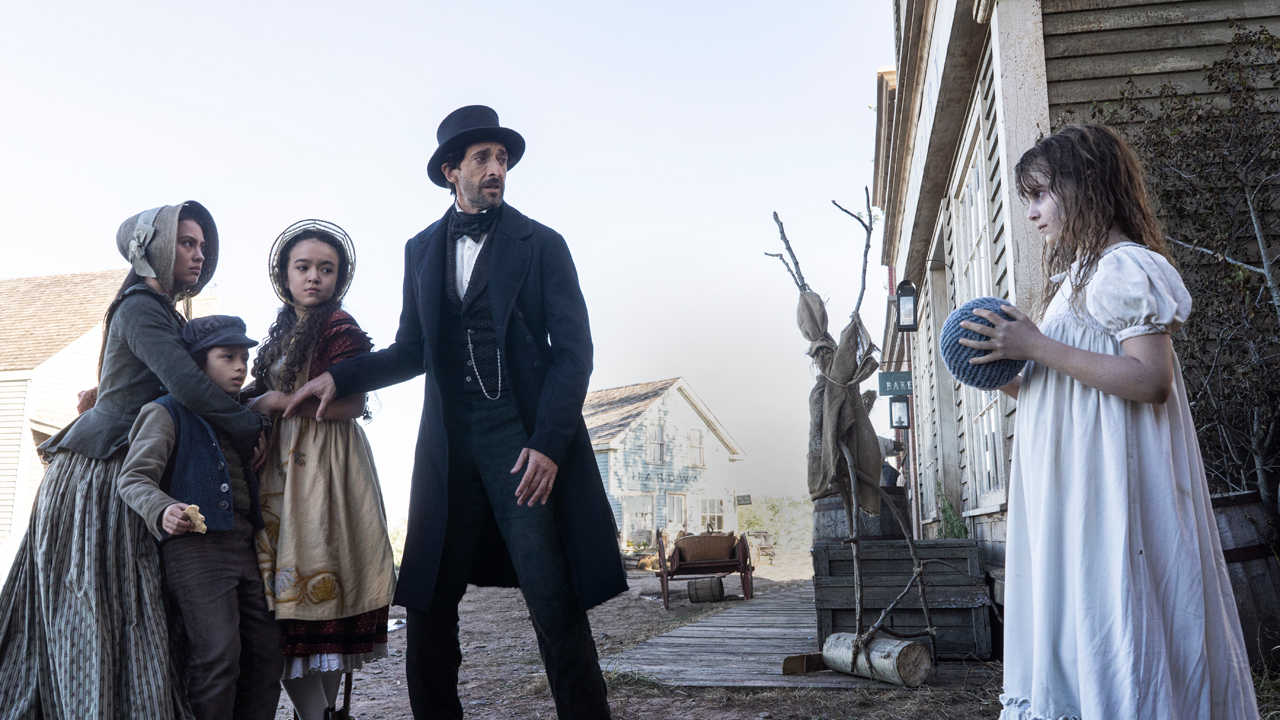 What "Jerusalem's Lot" Is About
Over the course of his career, Stephen King has invented a large number of creepy locales in his beloved state of Maine, from the secretive community of Little Tall Island, to Haven: Home Of The Tommyknockers. Novels and short stories have so vividly brought Castle Rock and Derry to life that they feel both like extensions of one's own hometown.
But before any of those famous settings in the King canon came the introduction of Jerusalem's Lot, which the author was, in a sense, writing about before he knew he was writing about it.
The small town is best known from the book that bares its abbreviated name –which famously sees the remote municipality become infested with vampires – but its origins go deeper than that. When King was writing Salem's Lot as his follow-up to Carrie in the mid-1970s, he realized that he had already written a short story in college that effectively worked as a prologue. The novel was completed and published in 1975, and about three years later said short story was reworked and titled "Jerusalem's Lot" for inclusion in Night Shift (which also includes a Salem's Lot "sequel" titled "One For The Road.")
In homage to Bram Stoker's Dracula, "Jerusalem's Lot" is an epistolary short story primarily consisting of letters written by protagonist Charles Boone to a friend he refers to as "Bones." In October 1850, Charles, a widower, moves to Chapelwaite, his family's estate in Maine, after the death of his estranged cousin, and he plans to make it a home with the help of his manservant, Calvin McCann. Unfortunately, it's not long after they settle in that they realize things around the place aren't quite right – starting with the sound of scurrying behind the walls.
The people of the local village, Preacher's Corners, believe that Chapelwaite and the Boone bloodline are cursed, and while Charles is initially a skeptic, his attitude starts to swing when he and Calvin discover a hidden library in Chapelwaite and a map with directions to the deserted puritan settlement labeled Jerusalem's Lot. Driven by curiosity, Charles and Calvin go and find an unholy church where a grimoire titled De Vermis Mysteriis sits on the alter. Further research leads them to discover that Charles' ancestor, James Boon, founded the forgotten village as an inbred satanic cult that continues to try and summon a Lovecraftian, eldritch entity referred to as The Worm.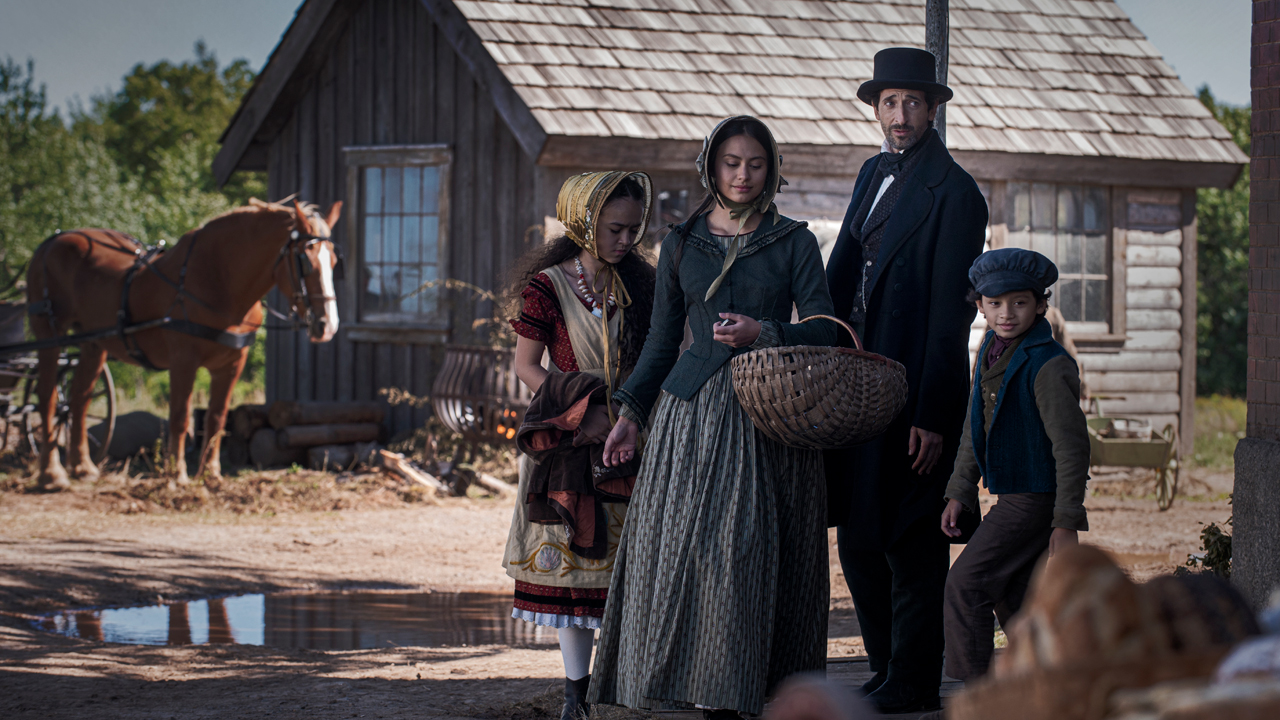 How Epix's Chapelwaite Differs From "Jerusalem's Lot"
Like my previous columns about USA's The Dead Zone and SyFy's Haven, Chapelwaite is a case where it's arguably easier to point at what's included from the source material in the adaptation versus identifying everything that's invention. Excluding the opening sequence and end credits, the 10 episodes equates to about eight hours of runtime real estate, and so obviously a lot of expansion was required from the sub-20 page short story.
Describing the approach to Stephen King's work for the show during an interview in 2021, Jason Filardi explained,
Charles Boone (Adrien Brody) remains the protagonist, and he is a still a widower in Chapelwaite, but instead of having Calvin McCann at his side, the character is made to be the father of three children (Jennifer Ens, Sirena Gulamgaus, Ian Ho) on the show. This circumstance opens the door for Charles to hire a governess, which leads to the introduction of Rebecca Morgan (Emily Hampshire), a writer who takes the job with the Boones so that she may surreptitiously write an article about them.
Like in the short story, Charles moves to Chapelwaite because he inherits the estate from his cousin Stephen (Steven McCarthy), who he learns hanged himself after the death of his daughter, Marcella (Acadia Colan). The series, however, adds to that in significant ways, as Stephen is not just dead: he's undead. The estranged cousin and his father, Phillip (Julian Richings), are revealed to be vampires in the adaptation, serving a master named Jakub (Christopher Heyerdahl). They are searching for De Vermis Mysteriis because reading from it will allow the bloodsuckers to usher in a dark new age – but the hidden evil book only calls out to living members of the Boone family. For this reason, they stage their deaths and lure Charles to Chapelwaite.
With the exception of Charles, Stephen, Phillip, Marcella, and Mrs. Cloris (Gabrielle Rose), the caretaker of Chapelwaite, pretty much every other major character on the series is an original creation, though there is one detail from the short story that is used in the development of Faith Pringle (Briony Merritt), the young woman who is having an affair with Preacher's Corners minister Burroughs (Gord Rand). In "Jerusalem's Lot," one of the bad omens that Charles is warned about after his arrival at the Boone ancestral home is a woman in town giving birth to a baby with no eyes – and that's a description of the child that Faith bears on the show.
Lastly, it's worth noting specifically that Jerusalem's Lot is utilized differently on Chapelwaite than what's featured in Stephen King's text. There is no mention of an incestuous cult started by Charles' ancestor; it's merely the haven for Jakub and his legion of vampires.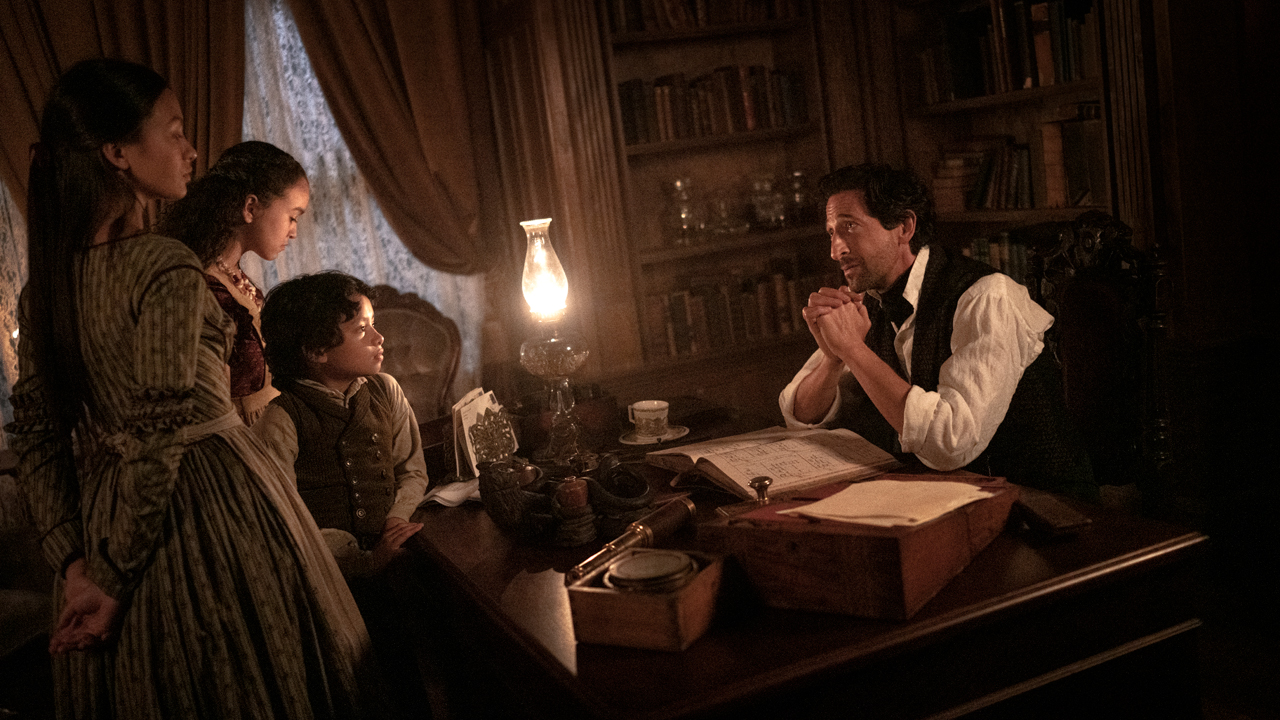 Is It Worthy Of The King?
As a subject of this column, Chapelwaite is a unique case. After all, unlike other Stephen King TV shows like The Dead Zone, Haven, Mr. Mercedes, and Castle Rock, it's the only one that is presently still on the air. Epix announced the development of a Season 2 in February 2022, and at the time of this feature's publication, those episodes have not yet aired.
One can't discount the possibility that Season 2 could end up changing the entire profile of the show – especially given that the first 10 episodes almost wholly exhaust the source material – but as it presently exists, the show can be said to be one of the better modern Stephen King adaptations.
The show successfully concocts a spooky atmosphere from its setting in primitive American history, and the way in which the narrative from the book is expanded is clever and well-done (particularly the idea of having Stephen and Phillip lure Charles to Chapelwaite for their nefarious purposes). The protagonist being made a father both adds welcomed dimension to the character as well as increased stakes to the plotting, and the children individually have personality and motivations that push the story in interesting directions.
It also happens to be pretty damn horrific. With no censorship in play thanks to its home being a subscription cable network, Chapelwaite is a vampire story that sees copious blood flowing in just about every episode, and even if the monstrous violence doesn't chill you, the aforementioned eyeless baby most definitely will.
Of course, it must be mentioned that among the show's fans is Stephen King himself, who Tweeted a very positive critique of the series between the original airings of the seventh and eighth episodes:
CHAPELWAITE (EPIX) is very, very good. Balls-to-the-wall gothic horror. All thriller, no filler.October 14, 2021
See more
It's unclear at present exactly what Chapelwaite Season 2 will be –  if not especially because Season 1 ends with Charles Boone becoming a vampire and sailing away from Maine and off to parts unknown with De Vermis Mysteriis sewn into his chest cavity – but the successes of the first 10 episodes alone inspire excitement for what's to come.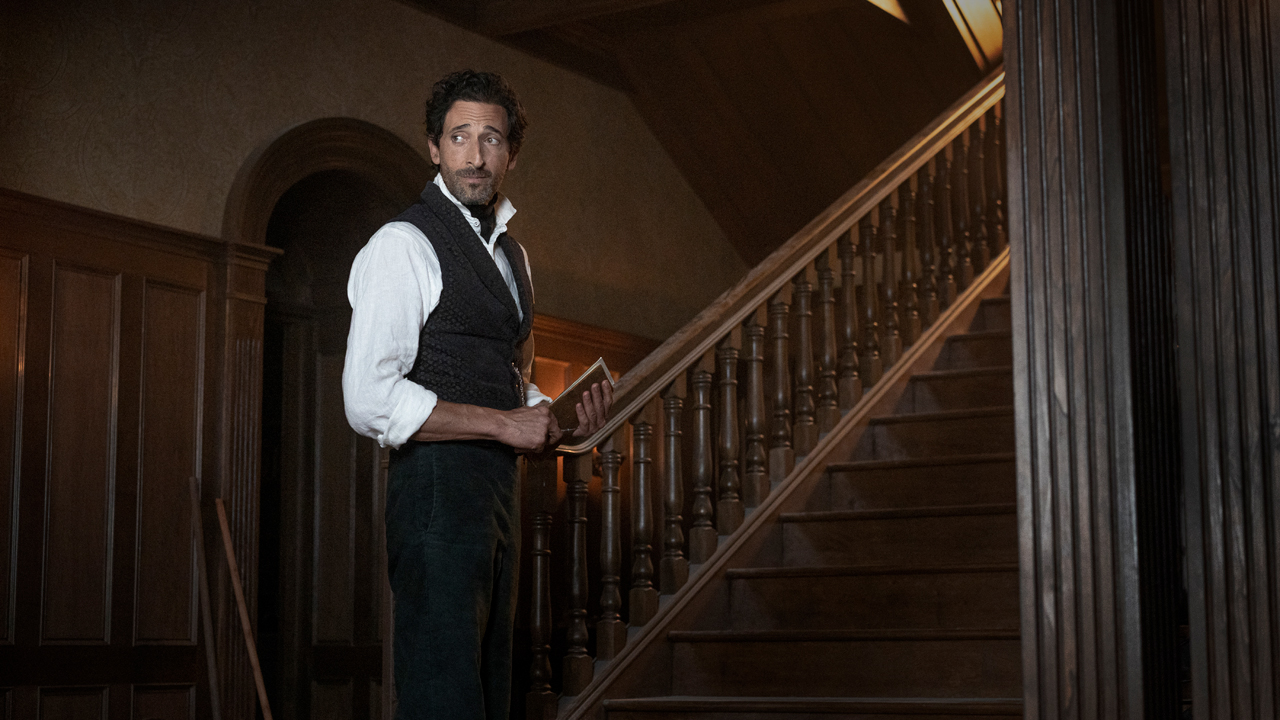 How To Watch Epix's Chapelwaite
Chapelwaite Season 1 isn't available to watch on any streaming services, so the most basic way to watch is on the Epix website paired with an Epix cable subscription. That, however, is not the only way to watch. With an MGM+ subscription you can not only watch the show on the network's homepage, but also on Amazon Prime (opens in new tab), The Roku Channel (opens in new tab), and Philo (opens in new tab). You can also access Epix programming via YouTube. Individual episodes are not available for digital purchase, but those building the Ultimate Stephen King collection and have a region-free Blu-ray player should take note that a Region B Blu-ray (opens in new tab) was released by Via Vision in 2022.
Speaking of 2022, next week's Adapting Stephen King will be the penultimate edition of this column, as I'll be taking a close look at the first of two King movies that came out last year: Keith Thomas' Firestarter. Look for the feature in the CinemaBlend Movies section next week, and in the meantime you can discover all of my previous pieces by clicking through the banners below.






(opens in new tab)